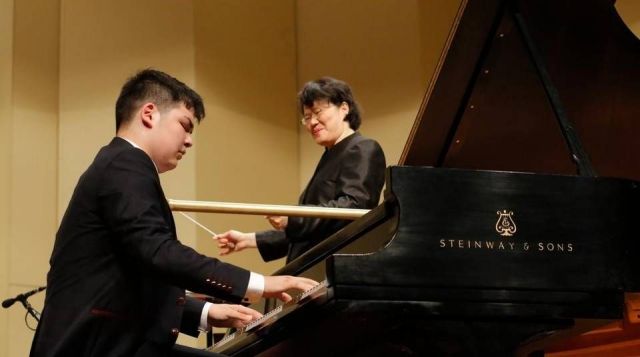 A 17-year-old pianist from Kazakhstan took home the first-place prize on Sunday at the inaugural Cliburn International Junior Piano Competition and Festival, in Fort Worth. Alim Beisembayev was born in Almaty, Kazakhstan, and moved to Great Britain in 2010 to attend the Purcell School for Young Musicians.
Beisembayev won the top prize for his performance of Tchaikovsky's Piano Concerto No. 1. His prize includes $10,000 in cash and a $2,000 scholarship. The competition jury awarded its second and third place prizes to Arsenii Mun, 16, of Russia, and Youlan Ji, also 16, of China, respectively.
This marks the first year for the Cliburn Junior, a spinoff of the prestigious Van Cliburn International Piano Competition, which is held every four years and is named after the late Texas pianist. The junior version is for pianists ages 13 to 17.
Organizers selected 24 young pianists from 14 countries to compete in Fort Worth. The applicant pool consisted of 160 young pianists, who applied through online applications and video submissions.
Finalists performed with the Fort Worth Symphony Orchestra under conductor Mei-Ann Chen.
Among this year's competitors were a number of Americans, including Gregory Martin, 17, who studied piano in Bakersfield and Los Angeles; Misha Galant, also 17, from Northern California; and Anna Boonyanit, 16, also from Northern California.
Galant received a couple of special recognitions on Sunday, including the audience award and a special award for classical sonata. Clayton Stephenson, of New York, also received a special jury award.
The jury was chaired by American pianist Jon Nakamatsu, who won the Van Cliburn competition in 1997.
Source: latimes.com On photo: Alim Beisembayev
June 30 2015, 10:52