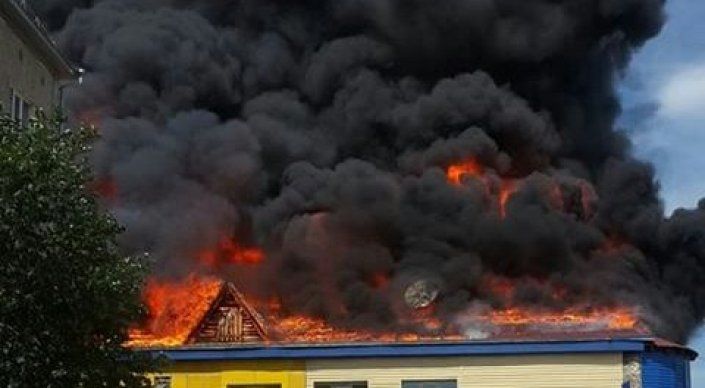 A big fire has claimed a cafe, spread to the neighboring apartment house and left hundreds of people homeless, Tengrinews reports.

The fire took place in Petropavlovsk, a city in northern Kazakhstan, at the crossing of Ulyanov and Zhumabayev streets. It started at around noon this Saturday, June 27, in a cafe called Pizza House.
Even though a fire fighting crew arrived only 3 minutes after the alert - even before most people realized that there was a fire in the cafe - they failed to prevent the fire from spreading to the neighboring apartment house located 8 meters away from the cafe. The corner of the building closest to the cafe caught fire at around 1 p.m. and the flame quickly climbed to the roof.
The flames kept raging until 3:20 p.m. when the firefighters eventually managed to take control of the situation. They extinguished the fire at 4:25 p.m.
The damage was huge - the cafe burned down entirely, the 6-entrance 5-storey apartment building lost its entire roof to the fire, apartments in the three entrances nearest to the cafe from the third floor and up were badly damaged and no longer suitable for living without extensive repairs, same happened to the top floor apartments in the entire building. Two apartments were destroyed completely.
June 29 2015, 10:04