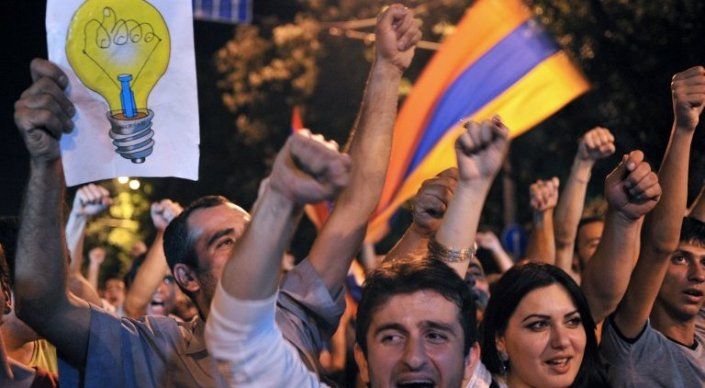 Rallies in the Armenian capital against electricity price hikes and police violence entered the seventh day on Thursday with protesters adamant they will not back down, AFP reports.
Hundreds of people maintained their vigil near the presidential palace in Yerevan on Thursday morning, blocking traffic on the city&rsquos main thoroughfare, an AFP journalist reported.
On Wednesday, over 9,000 protesters flooded the area, defying police calls to disperse.
Public anger has mounted over a move to hike power prices by more than 16 percent from August 1 in the poor ex-Soviet country of 3.2 million, which has already been badly hit by the economic crisis in Russia.
The protests started on Friday and gained momentum after hundreds of riot police moved in early Tuesday to break up a rally using water cannon, sparking a serious confrontation between protesters and police.
Washington, Brussels and the OSCE all expressed concerns over the violence.
Despite anger over the authorities' inability to lift the small landlocked nation out of poverty, the mood at the protests has been largely festive.
Some demonstrators performed the national dance, kochari, and sang, while others recited poetry and beat drums, and many waved the national flag.
The hashtag #ElectricYerevan gained traction on Twitter, with supporters taking to social networks to buttress the campaign.
Owned by the Russian state-controlled holding Inter RAO, Armenia's power distribution company said the hike was needed due to a sharp devaluation of the national currency, the dram.
The company refused to comment Wednesday but its head said earlier that it would not be able to guarantee steady electricity supplies if tariffs are not increased.
Armenia, an ally of Moscow, has been hit hard by the economic crisis in Russia brought on by falling oil prices and Western sanctions over Ukraine.
In January, the country joined the Russian-led Eurasian Economic Union, further increasing Yerevan's dependence on its former Soviet master.
June 25 2015, 15:36