By Laura Suleimenova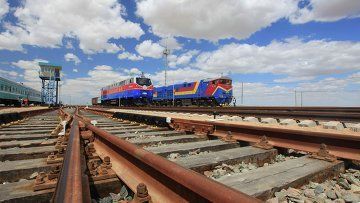 Railroad workforce engaged in TCO projects is downsized.
"Tengizchevroil" is optimizing expenses due to reduction of oil prices. In particular, reductions affected "Bolat Zhol" LLP – TCO's contractor specializing in railway transport services.
In March of this year Ak Zhaik newspaper sent inquiry to TCO about mass layoffs in Atyrau branch of KPJV company (joint venture of Kazakhstan institute of oil and gas, "Kazgiproneftetrans" and the alliance of foreign companies Worley Parsons Limited and Fluor Limited). The plan was to release150 employees working in Tengiz.
Let us remind that these reductions are connected with slowing down of Future Growth Project (FGP) that both expat and local TCO managers repeatedly confirmed.
We haven't received any reply to our March inquiry, but recently we've learnt that employees of another contracting company - Bolat Zhol LLP are subject to reduction due to work scope decrease.
To our repeated inquiry TCO's general manager for government and public relations Rzabek Artygaliev confirmed the information about reductions in KPJV. He also informed that "in 2015 a number of employees of contracting companies working in Tengiz left the project due to completion of contracts", naming also in that context "Bolat Zhol" LLP. According to Artygaliev, redundance affected both expat and local employees, but the majority of reduced employees are expats.
If for FGP employees the redundancy, most likely, is temporary, then for Bolat Zhol LLP employees – is is final.
According to Tamara Zarshchikova, Bolat Zhol LLP HR manager, the first phase of reduction will affect 46 workers and fall for August 1 of this year. After that the second and the third phases will follow.
- How many workers will be reduced altogether?
- It depends on TCO. We received their notice which says that due to decrease of product export by rail and repair activities at the railway loading terminals, it is planned to reduce the level of need for locomotives and working personnel. The reduction should start in August 1, 2015. Therefore, we distributed notices beforehand, a month before reduction.
Bolat Zhol LLP employees, who approached the newspaper, stated that they could observe decrease in volumes of cargo transportation themselves:
- Practically all sulfur has been taken out, crude oil is pumped into a pipe (they mean CPC pipeline – L.S.), crude loading racks and reservoirs are empty. And soon CPC expansion is expected. Therefore, there is nothing to transport, so people are laid off.
To recall, commenting on the results of the first quarter of 2015, Chevron corporation executive director John Watson tied the falling of profit with sharp reduction of oil prices, having also declared that one of the responses to current price environment will be reduction of personnel.
Caspian Pipeline Consortium Expansion project is scheduled for December 31, 2016. It is envisaged to modernize 5 existing and construction of 10 additional oil pumping stations (2 in Kazakhstan, 8 - in the Russian Federation), construction of 6 new reservoirs (with volume of 100 thousand cubic meters each) for storage of oil near Novorossiysk and tanker loading unit at CPC sea terminal. Besides, 88-kilometer pipeline section is expected to be replaced for a bigger diameter pipe on the territory of Kazakhstan. Total amount of investment into the project will be $5,4 billion.
CPC pipeline connects West Kazakhstan oil fields with sea terminal in Novorossiysk. Its length is 1511 km. Shipment of oil for export at CPC terminal in 2014 made 40 million tons that is 22% higher than in 2013.
June 24 2015, 15:57