By Murat Sultangaliev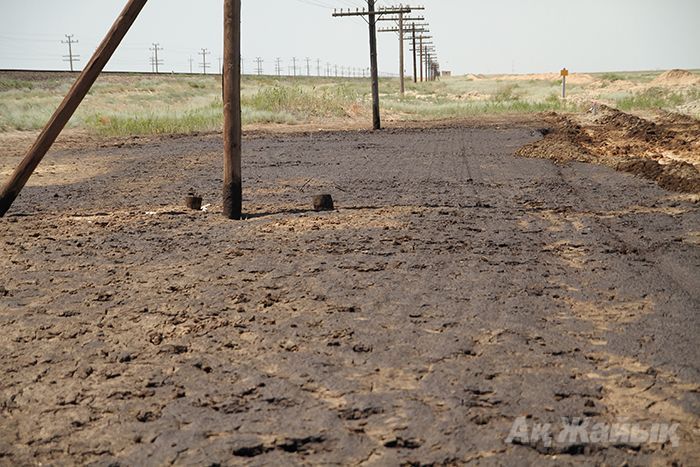 During the raid organized by the nature protection prosecutor's office on the territory of Makat Distrct, the team discovered oil spill along the railroad located between Karabatan station and Taskesken double track station.
On June 19, mass media reps and employees of laboratory of the regional ecology department visited the place.
The oil spill is not new. My colleague found this oil spill on google picture made from space and on the same picture - his house on its initial stage of construction when he started to build it 2 years ago. Oil evaporated from the surface, leaving a tar crust on the ground. Total area of spill is about 1 hectare. Where the ground is elevated, you can hardly see the remains of oil, but on the lowlands, closer to the railroad, the moisture after heavy rains in May, was, by the look of it, absorbed into the soil and pushed oil out of the ground onto the surface. Why was oil spill discovered only now? After all, it is located in very close proximity to Atyrau-Kulsary railroad. It remains a puzzle.
According to senior assistant of regional nature protection prosecutor Sapar Toursynbekov, the guilty parties will be found. The department of ecology was instructed to carryout an investigation, to punish guilty parties, as well as to ensure that oil-contaminated soil is removed.
Photo taken by Kanat Eleuov
June 19 2015, 17:19