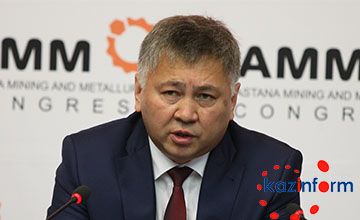 Kazakhstan is ranked 3rd among the CIS gold producers, this has been announced by Deputy Chairman of the Committee for industrial development and industrial safety under the Ministry for Investment and Development Kanat Baitov.

"Kazakhstan ranks 3rd gold producer after Russia and Uzbekistan among the CIS countries. Gold resources in our country are estimated at about 1,800 tons. In Kazakhstan registered about 100 gold mining companies, only 35 of which are currently operating," said Mr. Baitov during a roundtable themed "Gold mining in Kazakhstan" in the framework of the Mining and Metallurgy Congress "Astana Mining & Metallurgy".

According to his words, the second Five-Year Plan aimed at active development of exploration in Kazakhstan. For this purpose,

There have been concluded 127 contracts with mining companies for exploration and production of gold.

Republican budget allocated 2.1 billion tenge for exploration in 2009-2014, including 39 million tenge in 2009, 239 million tenge in 2009-2010, 316 million tenge in 2011, 454 million tenge in 2013 and 453 million tenge in 2014, informed Mr. Baitov.
Source: inform.kz Ona photo: Kanat Baitov
June 18 2015, 13:02