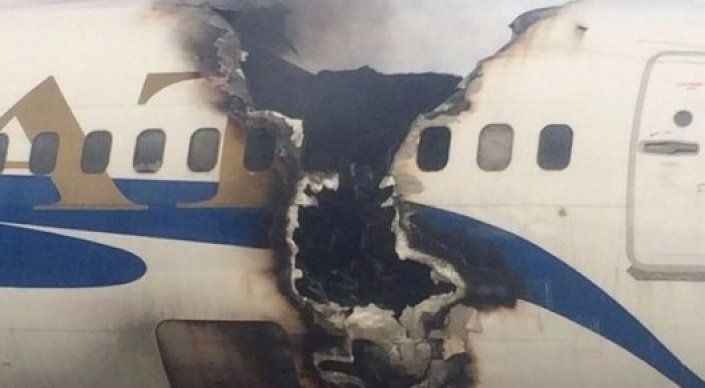 Mangistau transport prosecutor's office began pre-judicial investigation of SCAT airline plane ignition case that took place in the evening on June 16 at Aktau airport.
Investigation is carried out under the article "Violation of Safety Rules or Operation of Air Transport". The exact reasons of ignition are being established. The Committee of civil aviation establishes a commission for investigation of aviation incident.
To recall, SCAT airline plane that performed DV742 flight from Astana to Aktau caught fire during maintenance works while refuelling of oxygen equipment. By that moment all passengers already left the aircraft. The center of ignition was the place where the aircraft joins with a sleeve of the building of passenger terminal at the airport. As the result of fire the part of fuselage around front luggage compartment burned down. The aircraft is beyond restoration.
Earlier airport personnel informed that fire happened from explosion of reducer of oxygen cylinder during re-filling with oxygen. As the result of explosion, 47y.o. SCAT engineer, the citizen of Lithuania Petrik Robert suffered. He received first degree thermal burn of his right hand and situational neurosis. The victim has been hospitalized. During fire there were no passengers, crew or other technical workers inside the plane.
Translated by Zeena Urynbassarova
Source: tengrinews
June 17 2015, 10:15