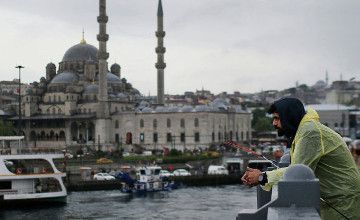 Turkey appears to be heading towards political meltdown after four Cabinet ministers, including the deputy prime minister, quit amid signs of growing rebellion against ailing Prime Minister Bulent Ecevit.
Deputy Premier Husamettin Ozkan, considered one of Ecevit's closest aides, quit on Monday along with the culture minister and two other state ministers, NTV reported. All four were from Ecevit's Democratic Left Party (DSP).
Nine DSP deputies also resigned from the party, and the state Anatolian news agency reported at least seven more were set to follow.
The departures will increase speculation that the government is about to collapse.
They came only hours after the head of the right-wing Nationalist Action Party (MHP), Devlet Bahceli, said a November election would help end uncertainty fuelled by the prime minister's poor health and divisions within the government.
Some analysts had named Ozkan as a potential successor to Ecevit, who, The Associated Press reported, was angered that his ally had failed to scotch rumours over the prime minister's ability to govern.
Ozkan "has created deep sadness among our organisation and our friends in the party," Ecevit told CNN-Turk television in an interview on Sunday.
Markets down
Turkish newspaper Cumhuriyet likened Bahceli's call for elections to a bomb hitting Turkey while Hurriyet compared it to an earthquake. Radikal said the move showed Bahceli had drawn his weapon against Ecevit.
It was the first time a coalition leader had publicly called for elections before their scheduled date of spring 2004.
Following Bahceli's remarks Turkish stocks ended almost five percent lower on Monday.
The lira, which lost half its value in a financial crisis last year, hit an all-time low of 1,680,000 to the dollar in early trading, before pulling back.
Turkey's benchmark 2030-maturity international bond fell 1.5 points to 81.125 percent of face value.
"It's chaos, extreme uncertainty in the sense you don't know what's going to happen the next day or even in the next hour," Emin Ozturk, economist at Bender Securities, told Reuters news agency.
Markets fear an early election could derail a $16 billion crisis plan for Turkey, the IMF's biggest borrower, and hamper rights reforms vital to the nation's ambition to join the European Union.
The IMF-backed plan is seen as crucial to the country's bid to save the economy from a crisis that saw it tumble 9.4 percent last year amid widespread job cuts.
And progress with the EU is considered vital to lure foreign investment and help the country emerge from its worst recession since 1945.
Economy Minister Kemal Dervis stepped in in an apparent bid to help the lira after it hit an all-time low. "There should be no reason for deviation in targets (under an IMF-backed crisis plan) if the situation does not prevail too long," he told Reuters.
Election outcome unclear
Lawmakers from Ecevit's Democratic Left Party, who met in Ankara on Monday, said they opposed an autumn election.
"We are not thinking of an early election. We think polls should be held at the normal time," Emrehan Halici, a lawmaker known to be close to Ecevit, told the Associated Press. He said Turkey "needed economic and political stability."
Only last week the three-party coalition had pledged the government would serve its full five-year term to April 2004.
Newspapers cited widespread rumours that Bahceli had seized the initiative because he suspected moves by deputy premier Husamettin Ozkan to ease the MHP from government and ally with the conservative True Path (DYP) opposition, which has 84 seats.
Bahceli's call came as a particular blow to Ecevit, 77, who just before had declared on live television he would not resign and predicted his coalition would hold despite all speculation.
It is unclear what kind of government would emerge from elections.
At present, opinion polls suggest the current coalition parties could all fail to clear the 10 percent threshold to parliament. The big winner could be the Islamist AK Party, viewed warily by the powerful army for its Islamist roots.
The MHP need to muster 110 signatures to recall parliament. Then a simple majority is required to call elections.
"I think everyone wants early elections," Emre Balkeser, sales trader at Alfa Securities in Istanbul, said. "The biggest problem is we don't know what's going to happen until (then)."
Ecevit has not yet reacted publicly to the MHP plan, but has previously insisted he is recovering well from illnesses that have included spinal problems, a nervous-muscular condition and a fractured rib.
Source: cnn
June 10 2015, 12:35