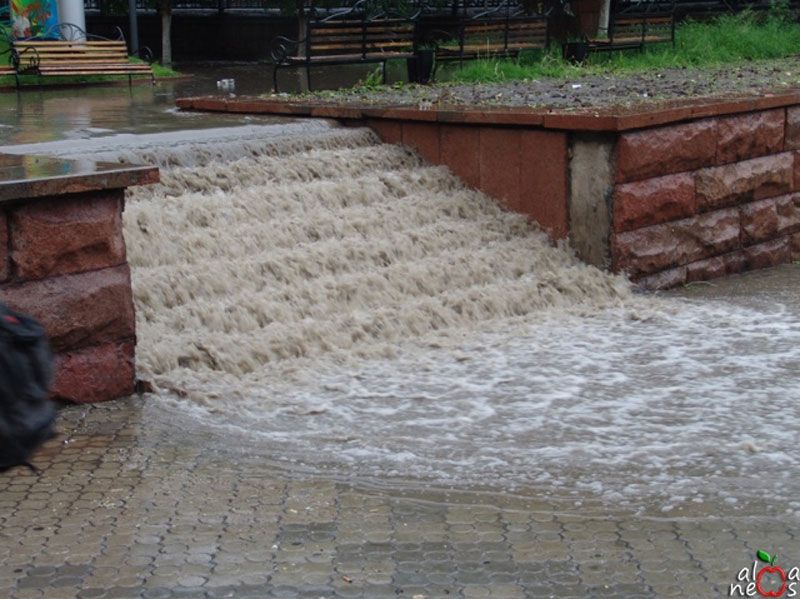 Unprecedented heavy rain poured in Almaty yesterday. Rains this year are plentiful, but such rain hasn't been experienced yet. The city all of a sudden went dark, electric poles, advertizing billboards fell down from strong wind, flood was everywhere, cars stopped and couldn't start the ignition.

In an hour and a half time the central emergency board received over 30 calls for help. Rescuers could hardly respond to all calls on time. One of the multi-story residential blocks was most unfortunate, strong wind completely destroyed the roof. Iron roof sheets blocked entrances to the house and inhabitants couldn't neither leave nor enter the block. Fortunately, nobody suffered.
When the weather calmed down,Kazhydromet extended storm warning in Almaty and Almaty region. Trips to country-sides due to expected heavy rains are not advised. Rescuers are expecting floods and mudflows. All forces and means of rescue services are brought to increased readiness, control over traffic, as well as over roads and bridges condition has been tightened.
Source: nur.kz
Translated by Zeena Urynbassarova
June 9 2015, 11:05