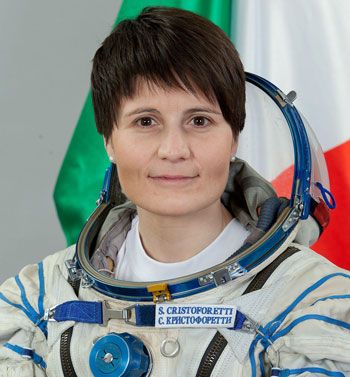 Samantha Cristoforetti, the first woman astronaut in Italy's history, will land back on the Earth at 3:43 p.m. (CET time; 7:43 p.m. Kazakhstan time) on Thursday, June 11, after spending more than six months in outer space.

The news was reported to AGI, the Italian News Agency, by sources of NASA. The Soyuz TMA-15M spacecraft is expected to land in the Kazakhstan's deserted steppes, near the city of Dzhezkazgan, south of Karaganda. The spacecraft that will be carrying Samantha Cristoforetti, Russia's Anton Shkaplerov and the American Terry Virts, will undock from the Rassvet module of the Russian segment of the International Space Station (ISS) at 12:20 p.m. CET time. The spacecraft is then expected to exit its orbit at 14:51 p.m. and land shortly after. Cristoforetti and Virts will be greeted by the authorities after a quick on-site medical test and subsequently be flown on a NASA flight to the Houston Space Center. There Samantha will be submitted to a long rehabilitation process after more than six months spent in a gravity-free environment and will download all the scientific data collected.
The fly-back operation will begin on Wednesday, June 10, when Terry Virts will handover the command of the ISS to Russia's Gennady Padalka, who is due to remain on the space station until September. Approximately three hours from the undocking, Ms Cristoforetti and her team-mates will go inside the spacecraft and initiate the re-entry operations.
"AstroSamantha", as she is called, is a 38-year-old Captain of the Italian Air Force and an astronaut of ASI and ESA, the Italian and European Space Agencies respectively.
She will conclude the mission, which began last November 24 at the Baikonur Cosmodrome, after spending 199 days in outer space, travelling approximately 84 million miles and conducting a long set of experiments. By virtue of the delay in the re-entry operation, which was initially scheduled for May 12, Ms Cristoforetti will also beat the world record for a woman's permanence in orbit. On Sunday, May 7, she will have topped the 195-day record set in 2007 by American Sunita Williams, 49.

Samantha also beat the Italian record of permanence in space, which belonged to Paolo Nespoli, with 175 days. Once back in Italy, Samantha will go on a post-flight tour although the stops have not been decided yet: perhaps on the Garda Lake (where her family now lives) and Male' in Val di Sole (near Trento, in northern Italy) where she lived when she was a teenager before moving to Munich, Germany, where she continued her secondary studies.
Source: agi.it Photo: lavoce.it
June 8 2015, 12:24