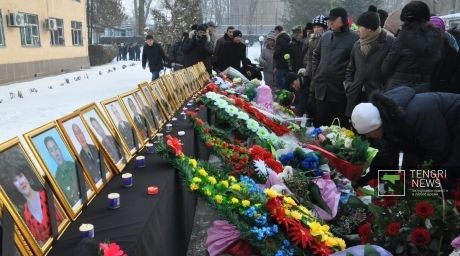 The frontier guards in Shymkent observed a minute of silence in tribute to the memory of their colleagues died in air crash. The assembly took place near the monument to the guards of the state border. People in uniforms laid flowers and lit candles, reports Tengrinews.
The officers were not hiding their tears when they spoke about the days of their service with the workfellows who died in the air crash. It became known that Kairat Mukhamediev's wife delivered a baby on the eve of the crash and he died without seeing his baby. "They all were very modest people and much younger than me, all in their thirties,"- said the colonel Gani Makhmoudov.
Also today the citizens of Almaty honoured the memory of the deceased militarymen. The memory corner was organized by the "Shygys" Regional Department of the National Security Committee. "Endless line of citizens were bringing flowers. All were mourning over the deceased officers, said Muratbek Serikbaev, the Deputy Head of the Regional Department.
An airplane of the RoK Frontier Service of the National Security Committee crashed at 18:55 PM yesterday 20 km from Shymkent city airport, killing a crew of 7 and 20 military personnel, including the acting director of the Frontier Service of the Committee, Col. Turganbek Stambekov.
by Zeena Urynbassarova
December 27 2012, 15:59