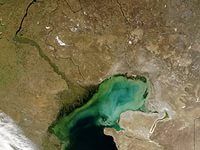 Kazakhstan is planning to explore and develop potential hydrocarbon reserves in the Caspian Depression in partnership with global energy firms.

The Caspian Depression is believed to hold approximately 60 billion tons of oil.
Reuters cited Kazakhstan Energy Minister Vladimir Shkolnik as saying: "This is why we are starting to implement the Eurasia project with the use of innovative geological technologies."
To support the drill program of super-deep oil wells in its west, Kazakhstan has been seeking capital and technology investment by promoting 'Eurasia' project.
"Five of the world's leading oil and gas companies have displayed interest in this project and we are now forming a consortium," Shkolnik added.
The country expected Kashagan oilfield to increase its output in the Caspian Sea, but production was halted following gas leaks at the oilfield in September 2013.
Shkolnik said that the Kashagan field will not resume production before the end of 2016.
Kazakhstan expects to produce 113 million tons of oil a year by 2031, taking into consideration the output of Kashagan and Tengizchevroil venture.
Source: energy-business-review.com
June 3 2015, 22:55