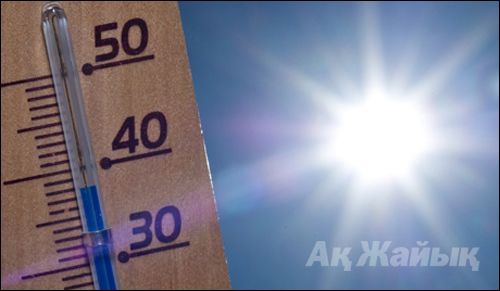 Hot weather is expected in Kazakhstan on June 2-5, tengrinews.kz reports citing "Kazhydromet".

Forecasters say that in the next three days hot weather is expected to stay in most regions of Kazakhstan. Meanwhile, in the western and northern regions of the country intermittent rain and wind intensification up to 13-20 meters per second is possible.
Besides, anticyclone is expected to spread in the eastern and south-eastern regions of the country, where temperature is also expected to increase. It is assumed that during that period the temperature on the entire territory of Kazakhstan will be above norm by 3-10 degrees.

Weather service agency also noted that hot summer weather has been established in Kazakhstan. Max. temperature during the weekend rose to 30-35 degrees in the west and in the south it increased up to 38-40 degrees Celsius, which is by 3-6 degrees higher than the norm, and in the west and north-west the temperature was by 7-10 degrees higher than the usual norm. Only in the east and southeast of Kazakhstan the temperature was below average by 2-5 degrees.

Translated by Elnara Uralova
June 1 2015, 15:44