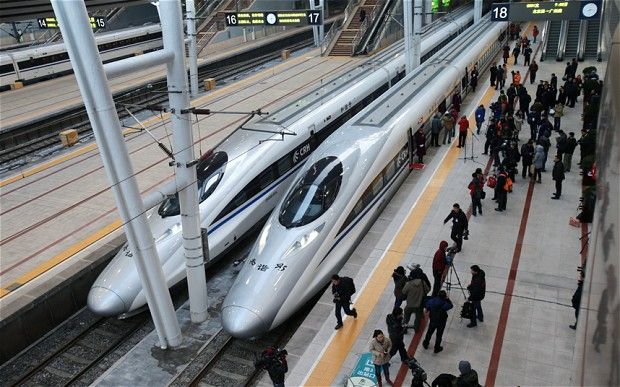 China claimed to have beaten another record on Wednesday, December 26, launching the world's longest high-speed rail link between Beijing and Guangzhou.
Government news agency Xinhua noted that the debut of the Beijing-Guangzhou high-speed railway marked another significant step in China's ambitious plan to develop a high-speed rail network. On Dec. 26, 2009, the 1,069 km-long Wuhan-Guangzhou high-speed railway was put into service. It was China's first long-distance high-speed rail track. With the opening of the new line, the world's longest high-speed rail track, China now has more than 9,300 km of high-speed railways in operation.
On Dec. 3, 2010, a CRH-380A train set a new speed record of 486.1 km per hour on a test run on the 1,318-km Beijing-Shanghai high-speed railway, which officially started operation on June 30, 2011.
On July 23, 2011, a high-speed train slammed into a stalled train near the eastern city of Wenzhou, resulting in 40 deaths and 172 people being injured. The accident, which was blamed on faulty signaling equipment and mismanagement, led to a nationwide rail safety check, speed reduction for bullet trains and stagnation in high-speed rail construction.
The country cautiously resumed construction and operation of high-speed railways this year. Fixed-asset investment in railways rose 3.1 percent year on year to 506.97 billion yuan (81.1 billion U.S. dollars) during the first 11 months of 2012, according to Ministry of Railways data.
The State Council adopted the 12th five-year plan for transportation system development in March this year, which plans for more than 40,000 km of express railways by the end of 2015.
WKT
December 26 2012, 19:50