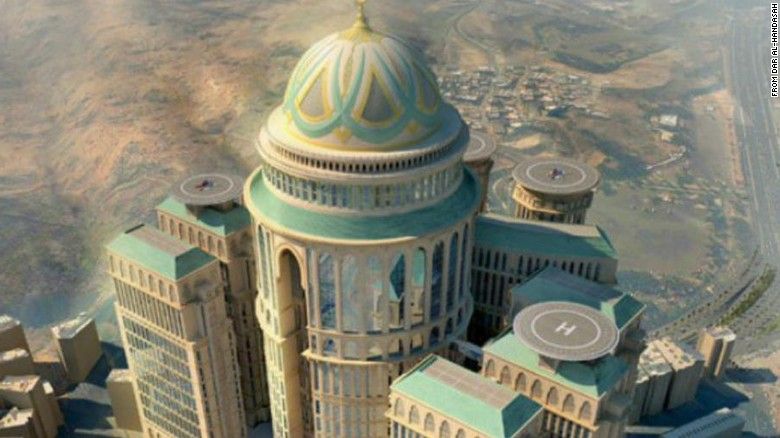 Twelve towers, 10,000 rooms and 70 restaurants, plus helipads and a full-size convention center: That's the plan for Abraj Kudai, a complex in Mecca, Saudi Arabia, that's set to become the world's largest hotel by room count when it opens in 2017.
Designed by architectural firm Dar Al-Handasah, the $3.5 billion site is currently under construction and will stretch across 1.4 million square meters.
A ring of 12 towers will rise from a podium just over 2 kilometers from the Masjid al-Ḥaram, Mecca's holy mosque, according to Dar Al-Handasah's website.
The towers will house 10,000 hotel rooms, according to DesignMENA.
Currently, Las Vegas is home to the world's largest hotel in terms of the number of guest rooms.
The MGM Grand has a record 6,198 rooms, according to hotel industry research firm STR Inc.
Here are the top five hotels in the world by room count, according to STR:
1. MGM Grand Hotel, Las Vegas: 6,198 rooms
2. First World Hotel, Malaysia: 6,118 rooms
3. Luxor Hotel, Las Vegas: 4,400 rooms
4. Mandalay Bay Resort, Las Vegas: 4,332 rooms
5. The Venetian, Las Vegas: 4,049 rooms.
Source: cnn
May 22 2015, 16:51