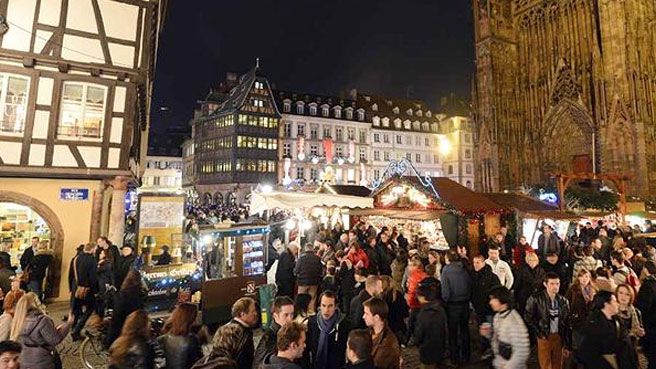 BETHLEHEM, Palestinian Territories: Addressing the faithful in his Christmas Eve midnight mass in Bethlehem on Tuesday, Latin Patriarch Fuad Twal urged "men of good will" to seek peace amid "the sufferings in the Middle East."
Twal, the most senior Roman Catholic bishop in the region, made reference to turmoil across the Middle East this year, but added a special appeal for efforts to resolve the Israeli-Palestinian conflict.
"Only justice and peace in the Holy Land can reestablish balance and stability in the region and in the world," he said in the traditional mass, delivered from the Catholic St. Catherine Church, adjoined to Bethlehem's Church of the Nativity.
"From this holy place, I invite politicians and men of good will to work with determination for peace and reconciliation that encompasses Palestine and Israel in the midst of all the sufferings in the Middle East."
Twal urged the faithful to offer prayers for "our brothers and sisters in Syria, who are dying mercilessly... (and) the people of Egypt who are fighting for national agreement, freedom and equality."
"Let us pray for unity and reconciliation in Lebanon, in Iraq, in Sudan, in the other countries of the region and the rest of the world. Let us pray for stability and prosperity in Jordan," he added.
Twal also made reference to last month's war between Israel and Gaza militant groups, saying his prayers included "all Arab and Jewish families that have been touched by the conflict."
Speaking in front of officials including Palestinian president Mahmud Abbas and Jordanian Foreign Minister Nasser Judeh, Twal praised "those who worked and continue to work for nonviolence, peace and justice."
"Please continue to fight for a just cause to achieve peace and security for the people of the Holy Land," he said.
"Your efforts have borne fruit in the recognition of Palestine as a non-member observer state by the United Nations. This recognition should be a decisive step towards peace and security for all."
The Palestinians last month won non-member observer state status at the United Nations General Assembly, after a bid spearheaded by Abbas. The status upgrade won widespread international and domestic support, but was opposed by Israel and the United States.
AFP
December 25 2012, 20:49