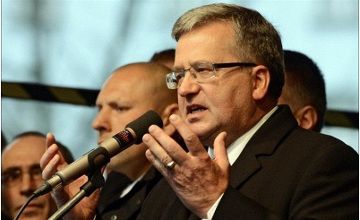 Poland's President Bronislaw Komorowski has described Sunday the Victory Day Parade due to take place in Moscow on May 9 as "a symbol of instability."

Poland should remember the lessons of history and not give in to a misconception that nothing is threatening the country. "Soon, on May 9, Red Square in Moscow will turn into an armored square. There will be those units that recently attacked neighboring Ukraine in front of us and the whole world, demonstrating their force. It has been a long time since a military conflict was as close to the Polish borders as now. One should bear in mind that in this military demonstration, demonstration of force, we are talking not about history, but about the present and future. It is the image of today's unstable and restless world. In in such conditions, we need to strengthen our Polish security," Komorowski said.
"Poland's geopolitical position has always been difficult because we are located between the East and the West. That is why we should remember our painful historical experience and strengthen our force, relying on agreement and unity where it is possible," he added. "Today's world brings threats, and that is why further modernization of the country is so important, along with strengthening ties with the Western world by expanding European integration and actively participating in NATO," he noted, Kazinform refers to Itar-tass.com.
Source: inform.kz
May 4 2015, 11:37