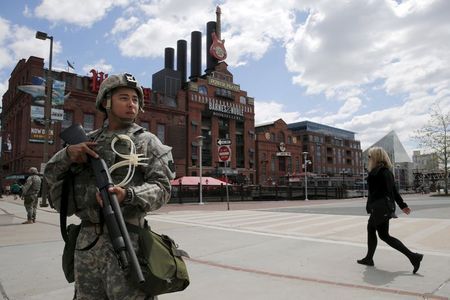 Thousands of police in riot gear and National Guard troops patrolled Baltimore to enforce a curfew on Tuesday night, dispersing protesters with pepper spray a day after the city was shaken by the worst rioting in the United States in years.
With helicopters overhead and armored vehicles on the ground, most people respected a curfew that started at 10 p.m. EDT (0200 GMT Wednesday) and goes until 5 a.m. all week.
But a few hundred people defied authorities, gathering at an intersection that was the scene of heavy looting in the largely black city a night earlier. Police broke up the group using rubber bullets and projectiles with pepper spray chemical irritant, and arrested seven people. Three more were arrested elsewhere in the city.
Baltimore erupted in violence on Monday hours after the funeral for a black man who died April 19 after he was injured in police custody a week earlier.
Source: srnnews.com
April 29 2015, 10:55