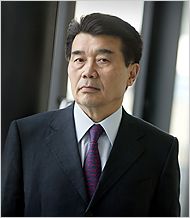 The authorities of Kazakhstan are seeking occasion for return of ex prime minister Akezhan Kazhegeldin to the motherland, said an informed source from Nur Otan party to KazTAG.

"Perhaps it is time for return of Akezhan Magzhanovich to the motherland. Of course, there are legal barriers. They are connected with illegal secret conviction in Kazakhstan, to which Rakhat Aliyev took much efforts. Now the situation has changed, I believe, it is time for him to come back to the motherland, to serve to the motherland," he said.
As for Kazhegeldin, we believe, he is ready for the dialogue. At the same time, he realizes that withdrawal of charges - is not full guarantee of his security on the territory of the state. In addition, apparently, he won support of a number of international organizations.
Source: kaztag
April 22 2015, 14:56