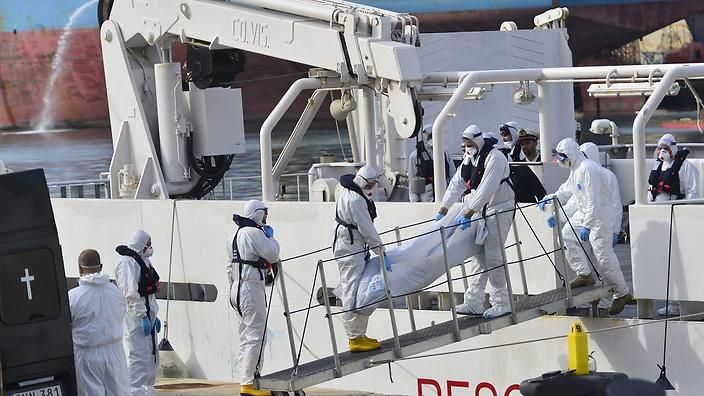 European Union foreign ministers gathered in Luxembourg on Monday under pressure to produce more than words as bodies were brought ashore in Malta among hundreds feared drowned in the latest Mediterranean migrant tragedy.
The death toll from Sunday's shipwreck off the coast of Libya was uncertain after officials said there had been at least 700 people on board, some reportedly locked in the hold.
Hundreds of kilometers (miles) to the east, another vessel carrying dozens of migrants ran aground off the Greek island of Rhodes on Monday. Greek coast guards said at least three people were killed.
European officials are struggling to come up with a policy that would respond more humanely to an exodus of migrants traveling by sea from Africa and Asia to Europe, without worsening the crisis by encouraging more to leave.
Sunday's shipwreck off Libya appears to be the deadliest ever involving migrants attempting to cross the Mediterranean to Europe.
A Bangladeshi survivor told police there had been 950 passengers onboard, according to Italian media. The vessel sank when passengers rushed to one side to attract attention from a passing merchant ship.
In the Maltese capital Valletta, coast-guard officers brought ashore the 24 corpses found so far. Wearing white protective suits, they carried the victims in body-bags off the Italian ship Gregoretti and deposited them in hearses as survivors looked on from the deck.
Twenty-eight survivors rescued so far will be taken on the same boat to the Sicilian port of Catania.
Source: reuters
April 20 2015, 16:21