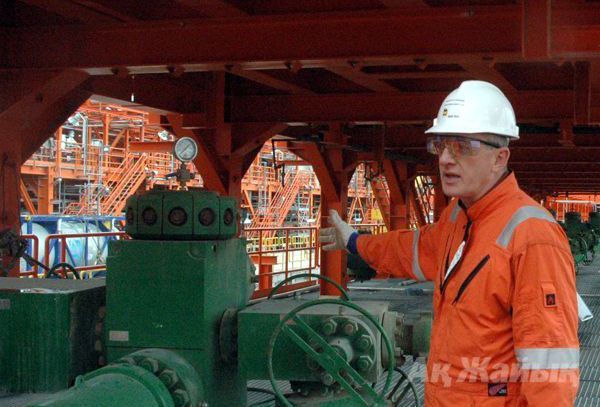 Industrial crude production at the offshore field of Kashagan has been delayed from December until the spring of the next year, according to Managing Director of Agip KCO Umberto Carrara (on photo).
- Likely, the production will start before June, in spring, when ice is molten, said Carrara during the visit of the Atyrau Oblast governor Baktykozha IZMUKHAMBETOV to Kashagan.
It was decided not to start production this year due to difficult winter conditions.
Given this, the product share agreement allowed the start of production in forthcoming October, but now the deadline again has been shifted till June, 2013.
To recall, this is not the first delay of the production – the consortium of overseas companies led by ENI initially had guaranteed commercial production to start in 2008, then the term was delayed for 2011. Later another memo was signed, which moved the date to 2013. Now Kazakh government and the consortium have agreed upon the stability of tax regime for the Kashagan development contract.
- Granule and flake sulfur units should be commissioned prior to the start of industrial development of Kashagan. Development of such fields implies problems – it is sulfur obtained from oil and gas. Sulfur production in Phase 1 will reach 1mln tons a year. It is needed to start constructing granule and flake sulfur units now, and sulfur transportation should not affect the environment. Capacities of these units should be calculated with account of reaching the industrial level in Kashagan crude production, said Akim.
Carrara replied that the company is already working upon this question. According to him, all the sulfur that will be produced at the plant will be kept in cubes in line with a new technology. The cubes will be isolated from each other with no access to the air. Only the sulfur produced before 2014 will be kept there. Oilmen promised to completely refine it in future.
August 29 2012, 19:33