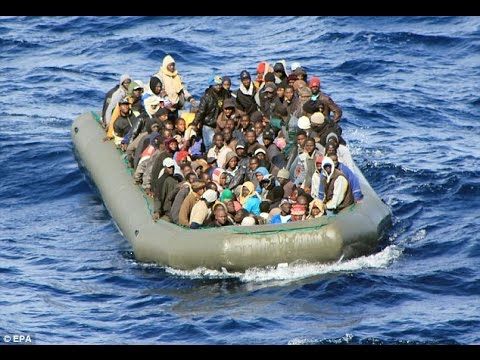 Some 400 illegal migrants may have drowned when their boat capsized off the coast of Libya on Sunday, according to survivors who were rescued and brought to Italy.
Those rescued claimed the vessel was carrying between 500 and 550 people trying to make their way to Europe when it sank.
Flavio Di Giacomo, a spokesman for the International Organisation for Migration, said between 144 and 150 survivors arrived on Tuesday at Reggio Calabria in southern Italy after being picked up by the Italian coastguard.
"We are continuing to investigate in order to understand how the shipwreck happened," he said.
There has been a suggestion the boat may have capsized after passengers began moving around when they saw the Italian rescue team approach.
The Italian coastguard says it has recovered nine bodies.
"There were 400 victims in this shipwreck, which occurred 24 hours after (their vessel) left the Libyan coast," the charity Save the Children said in a statement, citing survivors.
"There were several young males, probably minors, among the victims," the statement continued, adding there were also children among the survivors.
Speaking to Sky News, Save the Children spokeswoman Carlotta Bellini said: "The situation in Libya is really bad.
"Many migrants, including many children, have been victims of violence and many of them have reached Italy over the past few days.
"They have mentioned that extremism and violence on migrants is growing (in Italy).
"They are being transferred to a migrant centre in northern Italy."
The nationalities of the victims have not been confirmed but it is thought they are all sub-Saharan Africans who were living in Libya and that they paid smugglers to get on the boat in the early hours of Sunday.
According to Italian authorities, more than 15,000 migrants have arrived in Italy so far in 2015.
There were 15,000 in April alone last year and an average of 25,000 each month between June and September.
A year ago more than 4,000 migrants were rescued from overcrowded boats in the Mediterranean near the southern coast of Sicily in four days.
Last October more than 360 people drowned after a boat carrying African migrants caught fire and sank near the Italian island of Lampedusa.
In February, four armed smugglers threatened Italian coastguard officials as they rescued some 2,000 migrants off the shores of Libya.
An increasingly violent and chaotic situation in Syria and Libya has prompted the huge hike in the number of migrants trying to reach Europe.
Source: yahoonews.com Photo: i.ytimg.com
April 15 2015, 09:49