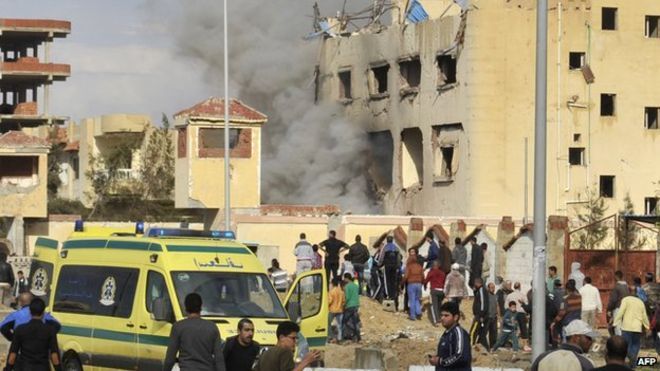 Twelve people have been killed in separate bomb attacks in Egypt's Sinai Peninsula, security forces have said.
At least five people died and 30 others were injured in an explosion outside a police station in El-Arish.
Elsewhere, seven soldiers lost their lives and two were wounded in an attack on an armoured vehicle, near the northern town of Sheikh Zuweid.
Militants from the Sinai Province group have said on social media that they were responsible, AFP reports.
A statement on the group's Twitter page read: "An armoured personnel carrier for the army of the apostates was destroyed... killing and wounding all aboard."
Seeking revenge
In El-Arish, residents said the neighbourhood shook as a car bomb exploded at the entrance to a police barracks, killing one civilian, three soldiers and a police officer.
The three-storey building was badly damaged and security forces have been searching the rubble for further casualties.
The Sinai Province group, which has pledged allegiance to Islamic State, has been behind a string of deadly attacks on the peninsula in recent months.
It says it is seeking revenge for a police crackdown on supporters of ousted Egyptian President Mohammed Morsi.
The army has sent troops to the area to target the militants and has imposed stringent security measures.
April 12 2015, 20:56