By Anastassiya Pastoukhova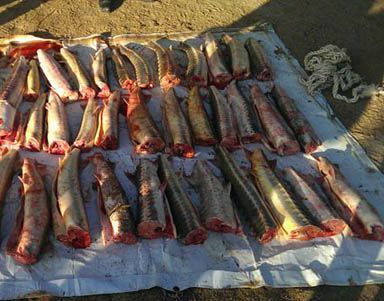 On April 6, during "Bekire-2015" (Sturgeon-2015) operation the water police officers detained the car with 30 kilograms of sturgeon fish on Atyrau – Damba village highway.
The driver of VAZ-21723 was 34-y.o. citizen of Atyrau, but it appeared that eight sturgeons belonged to the passenger - 30y.o. resident of Atyrau. According to him, he bought fish near the Ural River from unknown people.
Gulnazira Mukhtarova, the head of press service of Internal Affairs Department informed that criminal case has been initiated as per Article 339 of the Criminal Code of Kazakhstan ("Illegal treatment of rare species of animals").
April 8 2015, 12:07