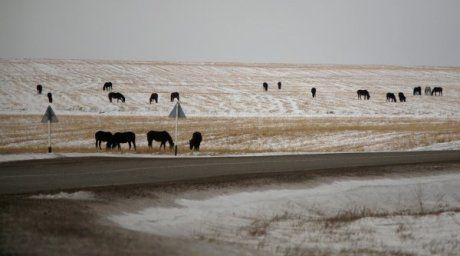 800km of Western Europe-Western China road will be put into service in 2013, Tengrinews.kz reports citing Minister of Transport and Communications Askar Zhumagaliyev as saying at the briefing in Kazakhstan President's Central Communications Service.

"Road surfacing has been laid on 800km of Western Europe-Western China road. We have done more than expected. Next year the plan is to lay another 706km of surfacing. Next year we expect to complete construction of Western Europe-Western China corridor and put into service the total of 806km more of the road and start the works on Shymkent-Zhambyl oblast border and Shymkent-Tashkent road sections," Askar Zhumagaliyev said.

According to him, implementation of Western Europe-Western China involved 35 thousand construction workers, 33 cement concrete and 31 asphalt-concrete plants, 21 general contractors and 66 sub-contractors. 4.5 thousand vehicles were used for the works.

"This year 4.2 thousand kilometers of the country's roads were repaired. We reconstructed 960km, overhauled 65km and performed medium-scale repairs on 1,093km of roads. Road traffic was launched on 2.1 thousand kilometers, in particular, on Kokshetau-Petropavlovsk, Omask-Maikapshagai, Astana-Kostanai and Uralsk-Aktobe roads," the Minister said.

According to Zhumagaliyev, next year's plan is to cover 4.6 thousand kilometers of roads with construction works and launch the traffic at 2.2 thousand kilometers of roads, including on Taskesken-Bakhty, Almaty-Ust-Kamenogorsk roads. He also noted that implementation of the projects of reconstruction of Astana-Temirtau, Almaty-Kapshagai, Almaty-Khorgos, Shetpe-Aktau roads will start next year.
December 21 2012, 14:44