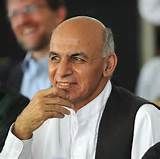 In order to establish a working relationship with members of the new Afghan cabinet as well as to discuss the development of bilateral relations, on April 6, 2015 Ambassador of the Republic of Kazakhstan to the Islamic Republic of Afghanistan Mr. Omirtay Bitimov met with Minister of Foreign Affairs of Afghanistan Mr. Salahuddin Rabbani, Kazinform refers to the Kazakh Foreign Ministry's press service.

There were discussed the upcoming political consultations between the leadership of the Foreign Ministries of two countries in Kabul, the 7th session of the Kazakh-Afghan Intergovernmental Commission on Trade and Economic Cooperation in Astana as well as a visit of President of Afghanistan Mr. Mohammad Ashraf Ghani to Kazakhstan.

Mr. Rabbani regards Kazakhstan as a friendly and brotherly nation and important partner in Central Asia. The Afghan Foreign Minister mentioned the great achievements of the development of Kazakhstan and the role of the President Mr. Nursultan Nazarbayev. The Afghan official expressed gratitude to the Government of the Republic of Kazakhstan for participation in the Afghan settlement and delivery on a regular basis of humanitarian assistance to the people of Afghanistan. He noted that he was interested in continuation of the important for Afghan side the State Education Program as well as training of the national personnel in Kazakhstan.

Salahuddin Rabbani said that he had visited the Republic of Kazakhstan in 1999 by attending the ECO summit with his father - former Afghan President Burhanuddin Rabbani - who was murdered by terrorists. He got a great impression of Almaty and hopes to see the new capital of Kazakhstan - Astana about which he heard a lot of positive reviews.
Source:inform.kz Photo:wikimedia.org
April 8 2015, 10:48