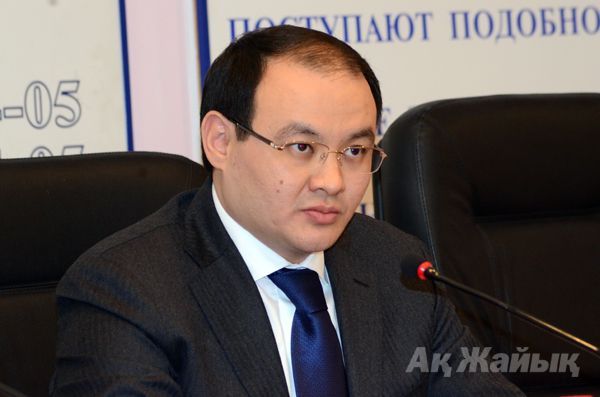 On December 11, Mayor of Atyrau Serik AIDARBEKOV conducted a performance review conference after 100 days in new position.
He confessed past three months were not easy.
"Certainly, it is impossible to sort out all problems of the city in this short period. It took us a while until we understood where we were, outlined plans and decided which problems we needed to solve first."

As to the work done, thanks to private companies and public organizations we removed 100,000 tons of garbage from Atyrau within a 2-month clean-up program. By the end of the year we will complete thermo-modernization of 28 apartment blocks and another 99 next year. T88mln have been allocated for hot food in 13 public schools. Repair works in 14 city schools will be over by the New Year.

Aidarbekov presented akimat's (city hall) plans for the next year, adding that budget hasn't been approved yet.

Next year, another 30 apartment blocks will be commissioned.
There are big plans for planting -- 120,000 young trees will be planted and drop irrigation technology will be introduced. According to mayor, drop irrigation is no expensive than construction of traditional watering pipelines.

"We want to beautify the city -- buy benches for parks and the river bank. You must have seen the new Western standard rubbish bins in the streets. We will continue city beautification, including building infrastructure in areas which never had any before. Atyrau will have new sculptures, flower clocks and new alleys, etc."

Mayor promised to erect 18 traffic lights at the busiest bits of city roads.
Concerning the municipal park previously mentioned by governor Izmukhambetov, mayor said an appropriate place is being sought at the moment.
"We would like it to be at the river bank, so that there is a good view. So that young people could do sport and spend their leisure time there. We will start building another park for family people and the elderly. Money is being allocated for these purposes too"

"Currently, city akimat is considering proposals from 6 potential investors (from Russia, Germany, Austria, etc) for the construction of a waste processing plant."

According to Aidarbekov, distribution of land parcels has been suspended now due to current audit of legality of previous lands distribution.
By Laura SULEIMENOVA



December 14 2012, 14:43