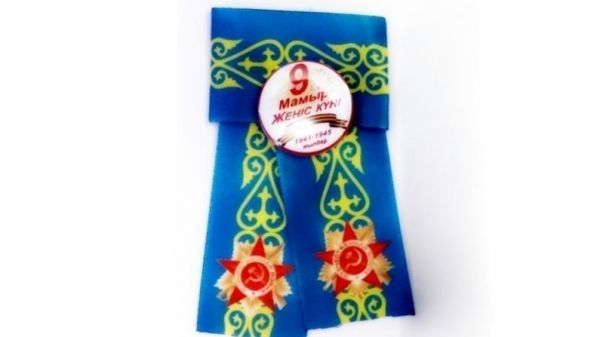 However, there is no prohibition on production or use of ribbons of St. George.Sketch of the Kazakh Victory Ribbon are sent to the regions for further distribution. Thus, West Kazakhstan region administration received a letter from the Ministry of Culture and Sports to update the Ribbon and its sample, Kazpravda.kz reports with reference to the portal "My City".

"We sent the sketches to all districts of the region to the heads of departments and private companies. In the future, each company will independently order the Ribbons for themselves, and advertising agencies in the town have already begun to produce "Victory Ribbons ", - said the head of the organizational department of WKO internal policy Guldana Argenova.

"Victory Day is a holiday that combines all generations of Kazakhstanis and is an inexhaustible source of patriotism. Therefore, in the country, the tradition of distributing the Ribbons devoted to 70th Anniversary of Victory in the Great Patriotic War of 1941-1945 must be continued," - said in the letter.

By the way, there is no law requiring wearing the new "Victory Ribbon" only or prohibiting wearing of St. George ribbon.

Recall a Ribbon Victory is a ribbon which is 30 cm long and 3 cm wide, made of sky-blue silk with the elements of national ornament of golden color, located in the middle of the strip.

The Ribbon will have an inscription "9 Mamyr - Zheңіs kүnі. 1941-1945."
April 6 2015, 10:29