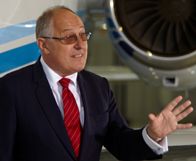 Following the announcement of the opening of their new aircraft charter business in Kazakhstan, Chris Leach, Chairman of Surrey-basedAir Charter Service group, is excited about growth in the market and demand for moving executive staff to and from the region.

"The opening of our office in Kazakhstan is a major step for the group," said Leach. "We have had a strong presence in Russia for over 15 years with our offices in Moscow and St Petersburg and we have been looking to expand on this success further throughout the CIS for a few years now.

"There have certainly been major challenges along the way, but we believe that the Kazakh aircraft charter market will show strong growth over the next few years due to its natural resources, the resulting investment in the region and the sheer size of the country."

Leach is not only targeting the nation's emerging super rich, who already have a growing taste for private aviation to get to and from meetings, but is also looking to provide a service for global customers who require aircraft charter services in the region. "There will be many foreign companies moving personnel and equipment, around the country," he said.

Air Charter Service arranges more than 6,000 charter contracts every year and turns over in excess of US$400m. With this latest addition, the company now has 17 offices spanning five continents.
December 14 2012, 12:10