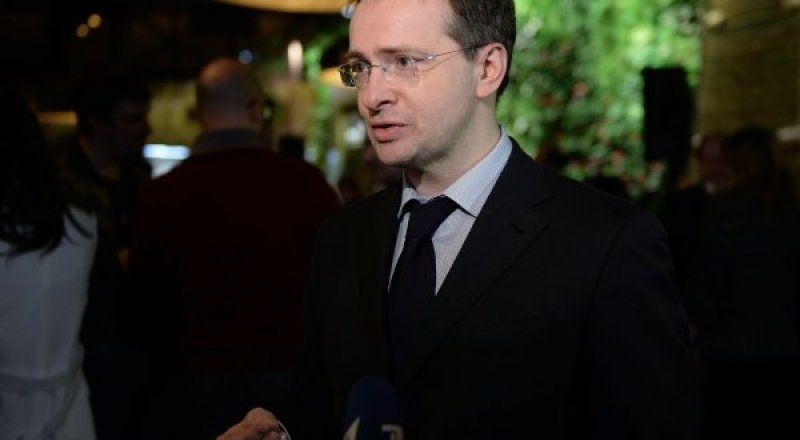 Boris Mezdrich, head of state-funded Novosibirsk State Opera and Ballet TheatreRussia's culture ministry said Monday it fired a theatre director for offending Orthodox believers with a radical staging of a Wagner opera, whose posters showed a crucifixion scene between a naked woman's legs, AFP reports.
Culture Minister Vladimir Medinsky on Sunday fired Boris Mezdrich, head of state-funded Novosibirsk State Opera and Ballet Theatre, over his interpretation of Richard Wagner's Tannhaeuser.
Wagner's 1845 opera focuses on a man torn between frolicking with the goddess of love Venus and seeking salvation in the Church.
The contemporary staging in Russia's third city Novosibirsk shifts the action to the present day, with Tannhaeuser a movie director making a film about Jesus visiting Venus's erotic grotto.
The Russian Orthodox Church's head of public affairs, Vsevolod Chaplin, had earlier branded the production a "desecration of a symbol revered by Christians".
The culture ministry said Monday it fired Mezdrich because "the feelings of believers have the right to respect".
The scandal first erupted in February when a senior regional cleric contacted prosecutors.
A civil court threw out the case, but the culture ministry and the Church have since piled fresh pressure on the theatre in the form of litigation, financial checks and public protests.
On Sunday, state television said around 1,000 people attended a demonstration and prayer meeting against the opera in Novosibirsk, under the slogan: "Let's defend what's sacred and save Russia."
President Vladimir Putin's spokesman Dmitry Peskov backed the move, but denied the state was censoring Mezdrich.
"The state has the right to expect appropriate stagings... that do not provoke such a sharp public reaction," he said.
"(The move) should not be seen in any way as attempts to bring in any censorship", he added, cited by RIA Novosti state news agency.
In a reference to deadly jihadist attacks in Paris earlier this year, the culture ministry branded the play as a "deliberate mockery" of religious belief, warning it could lead "to people's deaths, as we have seen recently".
The culture ministry has appointed the head of Saint Petersburg's renowned Mikhailovsky Theatre, Vladimir Kekhman, to replace Mezdrich.
'Openly repressive decision'
Leading figures from the Russian theatre have spoken out against Mezdrich's sacking.
Director Kirill Serebrennikov told Russkaya Sluzhba Novostei radio it was "awful, awful, awful. This is a really ugly incident".
Vedomosti business daily on Monday said it was the "first... openly repressive decision" by Medinsky, whose ministry funds much of Russia's vibrant arts scene.
Russian arts have come under pressure from a variety of new laws, such as a ban on swearing on stage.
The latest scandal has sparked comparisons with Pussy Riot's punk protest against Putin in a Moscow cathedral in 2012. Some Russians saw this as deeply sacrilegious and offensive, while the singers' supporters said they were engaged in a legitimate political demonstration against state authorities closely linked to the Orthodox Church.
That dynamic is being seen again with the Wagner opera, according to Ksenia Sergazina, an expert at Sova centre, which monitors extremism and hate crimes.
"Especially after Pussy Riot, the church and state are interconnected," she told AFP.
"This incident will be the latest milestone in the direction towards censorship, either by the state or by the Church."
Russia has no official religion but polls show about 70 percent identifying themselves as Orthodox Christians.
March 31 2015, 11:28