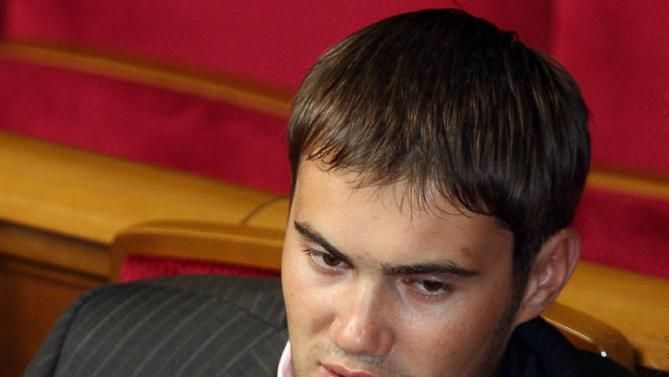 Viktor Yanukovych Jr.The 33-year-old son of toppled ex-Ukraine president Viktor Yanukovych has died, his former party said Monday, after his car apparently fell through ice on Russia's Lake Baikal.
The Party of Regions' official website announced the "tragic death of our colleague and former MP...Victor Yanukovych Jr" alongside a picture of flowers and a candle.
Russian authorities on Sunday said that a man had died while travelling in a Volkswagen carrying six people on the frozen lake close to Siberia's remote Olkhon Island late Friday.
They gave his name as Viktor Davydov, the maiden name of Yanukovych's maternal grandmother.
The other five people in the car survived, it was reported.
Citing local officials, Russian website RBK said the group had driven onto the ice to take photographs.
Yanukovych Jr served as a deputy in Ukraine's Rada from 2006 but had been living in Russia since his father lost power following pro-European protests last February.
It is the latest in a string of deaths of those close to the former leader.
Last month, former deputy Mykhaylo Chechetov, a prominent lawmaker in Yanukovych's time, was found dead after jumping from a window at his 17th floor Kiev apartment.
On March 9, former lawmaker Stanislav Melnyk, also from Yanukovych's Party of Regions, was found by his wife dead in his bathroom, leaving a suicide note.
Three days later, Oleksandr Peklushenko, another ally of Yanukovych, was found dead from a gunshot to the neck.
Many of the former president's clan are now hiding out in Russia, although Yanukovych Jr was not facing any criminal charges in Ukraine, unlike his father and older brother Oleksandr.
However, the European Union froze his assets on the continent subject to an investigation into the embezzlement of Ukrainian state funds.
Nestor Shufrich, a former minister for the Party of Regions -- dormant since Yanukovych's ouster -- wrote on his official Facebook page that car-lover Yanukovych "died as he lived, at the wheel of the vehicle."
The party's official website called Yanukovych Jr "a wonderful person, able to make friends and to genuinely enjoy life."
"Death makes us forget about politics, of past grievances and complaints," it added, saying the former MP "loved speed and the extreme".
He is survived by wife Olga and son Ilya.
Following the Yanukovych family's hasty departure for Russia, protesters found an collection of 12 rare and expensive cars in a warehouse outside Kiev, which reportedly belonged to Yanukovych Jr.
Source: AFP
March 25 2015, 01:46