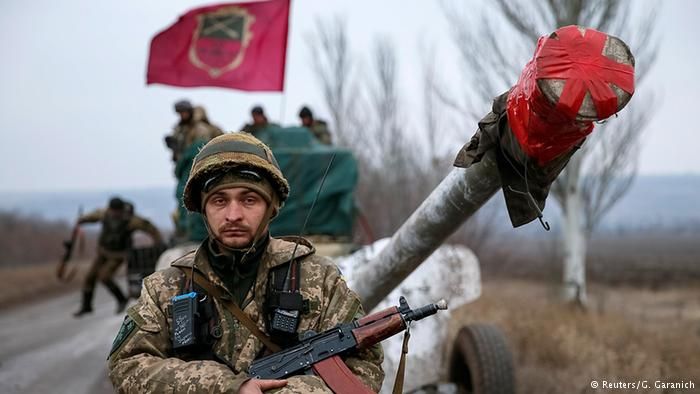 A resolution to provide lethal aid to Ukrainian security forces has passed the US House with broad bipartisan support. The move puts added pressure on the White House, which is also considering delivering weapons.
The United States House of Representatives voted overwhelmingly late Monday to approve a resolution urging President Barack Obama to deliver lethal weapons to Ukraine to fight pro-Russian separatists.
The measure urges Obama to provide Ukraine with "lethal defensive weapon systems" that would better enable Ukraine to defend its territory from "the unprovoked and continuing aggression of the Russian Federation."
The resolution passed with broad bipartisan support by a count of 348 to 48.
"Policy like this should not be partisan," said House Democrat Eliot Engel, the lead sponsor of the resolution. "That is why we are rising today as Democrats and Republicans, really as Americans, to say enough is enough in Ukraine."
Engel warned that Russia under President Vladimir Putin has become "a clear threat to half century of American commitment to an investment in a Europe that is whole, free and at peace. A Europe where borders are not changed by force."
Ukraine and the West accuse Russia of conducting a hybrid war in Ukraine's east by propping up the separatists in the provinces of Donetsk and Luhansk, charges Moscow denies. The crisis, which began shortly after Russia annexed Crimea last March, has left more than 6,000 dead.
"This war has left thousands of dead, tens of thousands wounded, a million displaced, and has begun to threaten the post-Cold War stability of Europe," Engel said.
The vote puts additional pressure on the Obama administration, which is considering providing lethal aid to Ukraine. Joint Chiefs of Staff chairman General Martin Dempsey said we would "absolutely consider" providing lethal aid, sentiments that were echoed by Defense Secretary Ashton Carter, who said that he was also "inclined" in that direction.
NATO's top military commander General Philip Breedlove said Sunday that the West should "consider all our tools" to assist Ukraine, including sending defensive weapons to areas held by pro-Russian rebels.
"Without action from this administration, Russia's aggression will continue to be left unchecked," Republican House Speaker John Boehner said after the vote was taken.
According to the State Department, the White House is waiting to see whether a ceasefire recently brokered in the Belarusian capital of Minsk will hold before deciding whether to deliver lethal assistance to Ukraine. In the meantime, Washington announced a $75 million (68.7 million euro) package of non-lethal aid to Ukrainian government forces battling the rebels.
March 24 2015, 17:24