By Laura Suleimenova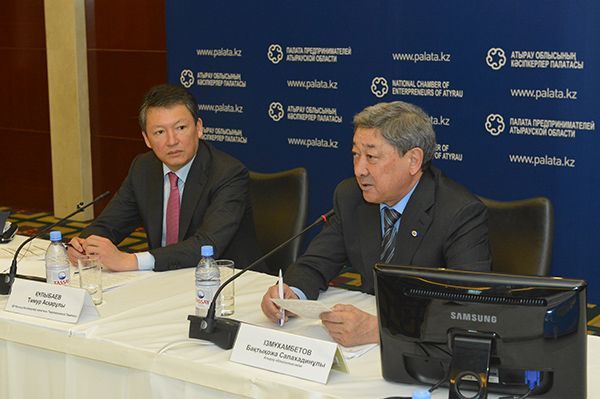 On March 17, an extended meeting of the Atyrau regional council of Chamber of entrepreneurs took place in Atyrau. The chairman of the presidium of the RoK National Chamber of entrepreneurs Timur Kulibayev participated in the meeting.
PREDICTABLE TENDERS
The main topic of the meeting was diversification of economy in the conditions of oil prices reduction and mutual sanctions of world powers.
Governor of Atyrau Oblast Baktykozha Izmukhambetov informed that during 9 months last year the share of small and medium business in total amount of gross regional product (GRP) made 7,8%, and in the last three years the number of active business entities increased by 2,8 thousand, thus, totaling to 34 thousand.
In his speech T. Kulibayev among the most significant projects in our region in 2015 named the construction of integrated gas-chemical complex (the second phase - production of polyethylene), plants for production of aromatic hydrocarbons and advanced oil refining at Atyrau Refinery? As well as pharmaceutical plant. He also informed that in the nearest future the agreement will be signed between National Chamber of entrepreneurs and "Samruk-Kazyna" Natinal Welfare Fund, the purpose of which is to provide local producers with long-term contracts.
The topic of non-transparency of subsoil users purchasing process, as well as of the companies included into "Samruk-Kazyna" Fund was raised by the chairman of the board of RoK National Chamber of enterpreneurs Ablai Myrzakhmetov and the director of Atyrau Chamber of enterpreneurs Asylbek Dzhakiev.
In the last 3 years the volume of purchases of subsoil users in our region equaled to over 3,7 trillion tenge, the volume of government procurements - 311,4 billion tenge. The total share of local content in subsoil users purchasing contracts made 57,3%. According to Dzhakiev if the share of services rendered by the Kazakhstan companies to major oil and gas projects increases, the volume of purchased local goods remains low: 9,42% in NCOC and 4,98% in TCO.
CHINA IS VERY CLOSE
Kulibaev warned local businessmen that the competition with the Russian and Belarusian producers will be hard:
- They have large-scale production, and product cost is much lower compared to ours. Products should be competitive, especially those demanded by subsoil users. Subsoil user says: give me good quality product that I am used to use. We have a break until Russian companies are engaged with their financial issues in the conditions of western sanctions. Also negotiations about entry of Kazakhstan into WTO are ongoing. We will be competing with Western Europe producers. And they don't produce crap, they have other technological structure, they are ahead of us.
Kulibaev called local businessmen to look attentively to Chinese companies and use them as potential partners in establishment of new and extension of operating production lines,. According to him, China is planning to finance 44 projects in Kazakhstan in the nearest future. will
After the meeting T. Kulibayev left for Aktau on a charter flight.
March 18 2015, 15:48