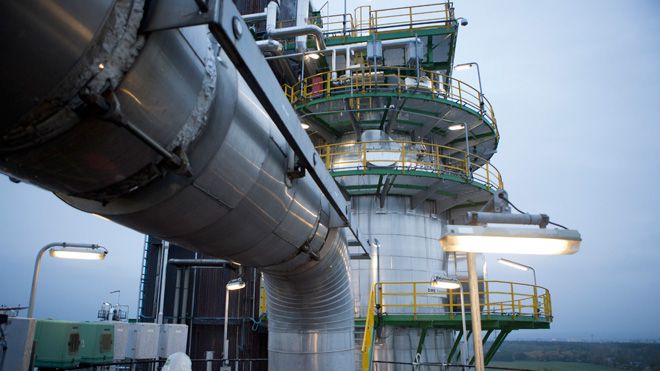 Oil prices fell 2 percent on Monday, with U.S. crude hitting six-year lows, on signs of higher output in the United States and Libya and a possible nuclear deal that could end sanctions for Iran, allowing more of its oil into the market.
A market data provider estimated a fresh build of more than 3 million barrels at the Cushing, Oklahoma delivery point for U.S. crude futures last week, traders said, adding to worries that stockpiles in the United States could hit record highs for a tenth straight week.
In Libya, output has risen to around 490,000 barrels per day (bpd), double that of a few weeks ago, an industry source said.
The United States and Iran, meanwhile, inched toward a landmark nuclear agreement that would result in the removal of sanctions against Tehran, although differences remained. Iran said it will boost oil exports once the sanctions are lifted.
Brent's expiring front-month contract closed down $1.23 and went off the board at $53.44 a barrel, hitting a six-week low of $52.50 earlier.
U.S. crude futures settled down 96 cents at $43.88. It had tumbled nearly $2 earlier to a March 2009 low of $42.85. Technical analysts see the next low at $37.
The selloff in crude extended to refined products, with gasoline ending nearly 2 percent down and heating oil about 1 percent lower.
"The U.S. is aflood with oil and other production points around the world are not letting up in their output. The question is how much more oil can we take before the storage tanks hit capacity?" said Gene McGillian, senior market analyst at Tradition Energy in Stamford, Connecticut.
Blueknight Energy Partners, which offers storage at Cushing, said last week it expected tanks there to be nearly full by late April to mid-May.
Brent and U.S. crude fell over the last two weeks on renewed fears of an oil glut, after February's rebound from a 60 percent price drop in seven earlier months.
World stockpiles are growing by 1.6 million bpd and will hit 1.7 million bpd in the second quarter, French bank Societe Generale estimated.
"Any way you slice it, this is bearish for prices," SocGen oil analyst Michael Wittner said.
Goldman Sachs analysts said in a research report that a falling U.S. oil rig count would only bring slightly lower production in the second quarter of this year.
Source: foxnews.com
March 17 2015, 09:57