By Anastassiya Pastoukhova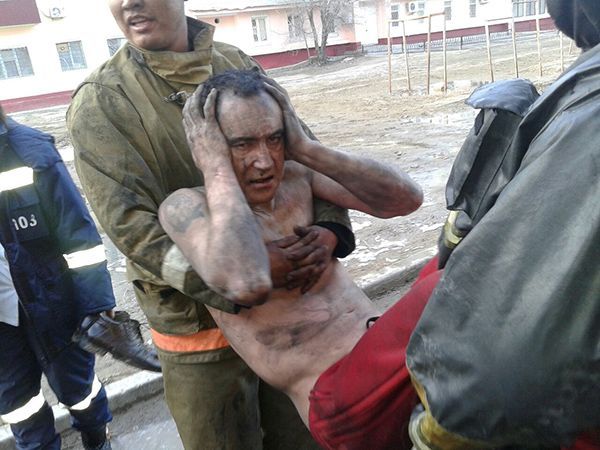 Photo provided by Emergency Department of Atyrau OblastThe message about the fire in the apartment of a five-storied residential block in Avanguard was received by the dispatching service on duty in the evening on March 11.
According to neighbors, in the apartment on the 3rd floor there was a person, but nobody could enter the apartment to rescue the man. Firefighters with the help of the ladder entered into the apartment through a window.
The man was lying on the floor in one of the rooms where everything was in flame. The man was unconscious. He was placed immediately into resuscitation unit of the regional hospital. Now the life of 47y.o. citizen of Astrakhan city is not in danger.
According to Zhanar Karzhaubaeva, press secretary of " Fire Extinguishing and Rescue Services" under the Emergency Department of Atyrau Oblast, the firemen of a fire brigade No. 1 managed to suppress fire in 20 minutes and prevented its escalation to other rooms. Thanks to professionalism of the chief of fire brigade No. 1 Ruslan Galiev, the division commander Ruslan Boranbaev and the firefighter Erlan Tuleusov the life of the Russian citizen was saved.
March 16 2015, 17:30