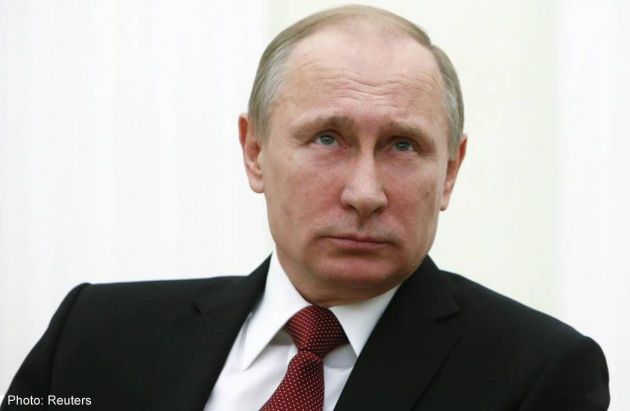 Russia was ready to put its nuclear forces on alert over the crisis in Crimea last year, such was the threat to Russian people there, President Vladimir Putin said in a documentary that aired on state TV on Sunday night, cnn reports.
Asked if Russia was prepared to bring its nuclear weapons into play, Putin said: "We were ready to do it. I talked with colleagues and told them that this (Crimea), is our historic territory, Russian people live there, they are in danger, we cannot leave them.
"It wasn't us who committed a coup, it was the nationalists and people with extreme beliefs."
But, he added, in the documentary broadcast on state-run channel Rossiya One, "I don't think this was actually anyone's wish -- to turn it into a world conflict."
It wasn't known when the interview originally taped.
Russia formally annexed Ukraine's Crimean peninsula last March, after Ukraine's pro-Moscow President Viktor Yanukovych was ousted following street protests that turned bloody. Russia called his ouster a coup by radical Ukrainian nationalists.
Before it was formally absorbed by Russia, unidentified armed men had taken control of Crimea's administrative buildings and key military sites. A referendum was held on 16 March, 2014 on secession from Ukraine.
Ukrainian officials at the time denied there was any threat to Russian citizens in Crimea.
'Nationalist bulldozer'
In the documentary, titled "Crimea: Way Back Home," Putin said Moscow had had no choice but to act.
"Crimea isn't just any territory for us, it is historically Russian territory," he said.
Crimea, a Black Sea peninsula that has been part of Ukraine since 1954, has a majority Russian population and strong cultural and historical ties to Russia. It is also home to Russia's Black Sea fleet.
But Putin said he had never thought of "dismembering" the peninsula from Ukraine until Yanukovych's ouster.
"We cannot leave this area and the people who live there to whims of fate, to let the people of Crimea be thrown under the wheels of this nationalist bulldozer," he said.
"I set certain tasks, I did say, what and how we should do, but immediately stressed that we would do so only if we are absolutely convinced that the people who live in the Crimea want it."
The vast majority of people who voted in the referendum approved secession from Ukraine. But the vote, staged while armed men controlled the region, was dismissed as illegal by Ukraine's interim government in Kiev, the European Union and the United States.
The West responded with financial sanctions against selected Russian figures and Crimean secessionist leaders.Putin:
U.S. 'puppeteers' were behind coup
Putin told the documentary-makers he was certain the United States was behind the ouster of Yanukoych, which Moscow views as an illegal armed coup.
"Formally, the opposition was primarily supported by Europeans, but we knew very well... that the real puppeteers were our American partners and friends. It was them who helped prepare nationalists (and) combat troops," he said.
He also said that sanctions should have been imposed against those who orchestrated what he called a coup, rather than those involved in Crimea's annexation.
Unrest broke out in Ukraine's eastern Donetsk and Luhansk regions following Russia's absorbing of Crimea. A fragile truce is currently in place but the conflict between pro-Russia separatists and Ukrainian forces there has claimed thousands of lives.
March 16 2015, 17:21