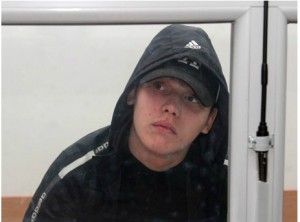 exclusive.kz Vladislav Chelakh, a Kazakh frontier guard accused of killing fellow soldiers and a forest ranger at Arkankergen border post was sentenced to life imprisonment in a high security penal colony.
Earlier, prosecutor Aleksander Kiriyak had requested the court to recognize Chelakh guilty under several articles, including murder, stealing personal property, abandonment of post and others.
Within the article 'murder of two and more persons' prosecutors requested life sentence for him. Besides, they insisted that Chelakh should pay all the monetary claims laid by families of the murdered.
When hearing of arguments started, Chelakh's advocate Serik Sarsenov asked the court for time to get prepared. The judge had scheduled a deadline for December 10, but Sarsenov expressed dissatisfaction over the decision and claimed he wouldn't participate in the hearing of arguments.
Zhumagaisha Sarzhanova -- a lawyer appointed due to absence of Chelakh's main advocates -- requested to declare Chelakh not guilty concerning the following articles: murder, robbery, theft of weapons, illegal penetration to someone other's home and desertment.
She requested to find him guilty under the articles 'deliberate destruction and damaging of military property' and 'illegal possession of weapons' only.
On December 11, Chelakh refused to attend the trial to say his last word. The lawyer Serik Sarsenov didn't show up too, as he had previously promised. He wasn't seen during reading of the sentence as well.

WKT
December 11 2012, 17:14