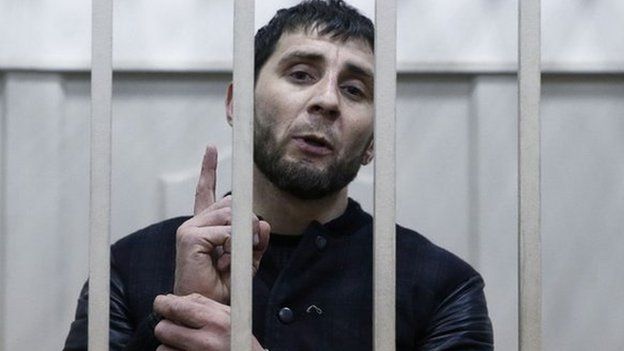 Zaur Dadayev was arrested on Saturday, about a week after Boris Nemtsov was shot deadZaur Dadayev, one of two suspects charged with the murder of Russian opposition politician Boris Nemtsov, confessed under duress, a member of Russia's Human Rights Council says.
Andrei Babushkin, who visited Mr Dadayev on Tuesday, says he saw "numerous wounds" on his body, suggesting he had been tortured.
The suspect said he only confessed so a friend arrested with him would be freed, Mr Babushkin said.
Mr Nemtsov was killed on 27 February.
The former deputy prime minister and veteran liberal politician was shot dead as he was walking with his girlfriend within eyesight of the Kremlin.
Last year, he contacted the Russian authorities after receiving death threats on his Facebook page.
In his official request for an investigation, a copy of which has now been published (in Russian) by the The New Times, a Russian weekly news magazine, he linked the threats to his position on the conflict in Ukraine.
He did not know the author of the threats personally, Mr Nemtsov says in the document, but "having watched his fill of [President] Putin's propaganda, Russian extremist thugs could carry out any provocation, including violence and murder".
Police in Yaroslavl, north of Moscow, where Mr Nemtsov was a member of the local parliament, turned down his request in September.
'No meddling'
Russian investigators are yet to cite a motive for the murder.
Zaur Dadayev and Shagid Gubashev, who both originate from Chechnya, were charged with his killing on Sunday. Three other men are being held in connection with the case.
After visiting them in prison on Wednesday, Mr Babushkin said there were "reasons to believe Zaur Dadayev confessed under torture".
He called for "people not involved in the investigation" to look into the claim.
Russian investigators have since asked Russian human rights activists not to meddle in the investigation.
The prison visit was organised solely to establish confinement conditions, a statement of the Investigations Committee says.
During the visit, Mr Dadayev showed marks from handcuffs and ropes he had around his legs after his capture in Ingushetia on Saturday.
He said he planned to tell a court hearing on Sunday why he had confessed but was never given a chance to speak.
Mr Gubashev continues to maintain his innocence. He said he was in Chechnya when he learned that his cousin, Mr Dadayev, had been detained in neighbouring Ingushetia.
He said he immediately travelled there and was detained as soon as he arrived. It would not have made sense for him to go to Ingushetia if he were connected to the crime, he added.
He said he was beaten and had a bag pulled over his head which was only taken off after arriving in Moscow.
Chechnya's leader Ramzan Kadyrov, who knew Mr Dadayev well, claimed that as a devout Muslim he was angry at those who defended the cartoons of the Prophet Mohammed, which appeared in the French satirical magazine Charlie Hebdo.
Mr Nemtsov had condemned the murder of 12 members of Charlie Hebdo's staff in an attack by Islamist militants, but those close to him say he was not a prominent critic of radical Islamism and focused his criticism on President Putin.
Source: bbc
March 11 2015, 17:24