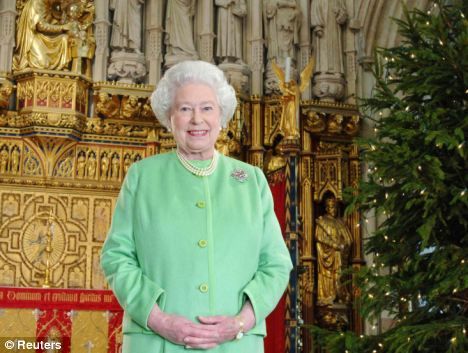 She has never shied away from using the latest technology for her Christmas message. And this year viewers will be able to watch the Queen's speech in 3D. She recorded the message at Buckingham Palace in the new format on Friday – becoming the first royal to use the technology.
Audiences will need a television with 3D technology built in, which requires viewers to wear special glasses to achieve the full effect.
The Queen is expected to speak about the positive impact on the nation of the London Olympics and her Diamond Jubilee.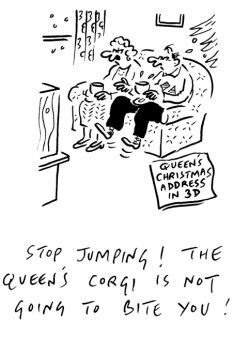 She made her first Christmas radio message in 1952 and her first live television speech in 1957.
The 3D debut by a Royal follows The Queen's on screen performance alongside Daniel Craig in a James Bond sequence specially recorded for the opening of the London Olympics.
The Christmas message has been filmed by BSkyB and will be made available to BBC and ITV.
The recording took place at Buckingham Palace on Friday but the speech is not expected to mention The Duchess of Cambridge's pregnancy, which was announced last week.
Prince William declined the opportunity to become the first Royal broadcast in 3D at his wedding to Kate Middleton last year.
The tradition began with her grandfather George V in 1932, when he delivered a radio broadcast written by Rudyard Kipling.
A royal channel was set up on YouTube in 2007 and The Queen has had her own Twitter account since 2009.
December 10 2012, 15:21