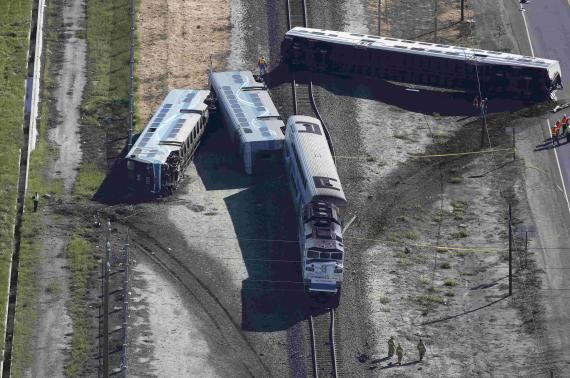 An aerial view shows the scene of a double-decker Metrolink train derailment in Oxnard, California February 24, 2015.A Los Angeles-bound commuter train slammed into a tractor-trailer apparently stuck on the tracks in a Southern California city before dawn on Tuesday, injuring 50 people in a fiery crash, four of them critically.
The truck driver, who was not hurt, left the scene of the destruction in Oxnard on foot and was found walking and talking on a cell phone in "some sort of distress" more than 1.6 miles (2.6 km) away, Assistant Police Chief Jason Benites said, reuters reports.
Jose Alejandro Sanchez-Ramirez, 54, was taken into custody on felony hit-and-run charges for leaving the scene of the accident, Benites said.
While no one was killed, the force of the impact overturned three double-decker Metrolink rail cars and derailed two others, ripped the truck apart and left burned chunks and twisted wreckage still smoldering hours later.
Benites said it appeared that the truck driver, who was towing a trailer full of welding equipment, had taken a wrong turn in the pre-dawn darkness and ended up on the tracks, where the rig became stuck as the train approached at 79 miles per hour (127 km per hour).
But in a move that may have helped avert a more catastrophic accident, the locomotive used an emergency braking system moments before impact, and the rail cars had safety features that helped absorb the energy of the crash, Metrolink spokesman Jeff Lustgarten said.
DANGEROUS CROSSING?
The crash came three weeks after a Metro-North commuter train struck a car at a crossing outside New York City and derailed in a fiery accident that killed six people.
Ventura County Emergency Medical Services administrator Steve Carroll said 50 people were hurt in the Oxnard incident, 30 of whom were treated at local hospitals.
Among the most seriously injured was the train's operator, who was in critical condition in the intensive care unit at Ventura County Medical Center, hospital spokeswoman Sheila Murphy said.
The wreck triggered major delays to Metrolink lines across Ventura County, forcing commuters onto buses. Oxnard is an affluent coastal city of some 200,000 about 45 miles (72 km) northwest of Los Angeles.
In 2008, a crowded Metrolink commuter train plowed into a Union Pacific locomotive in Chatsworth, California, killing 25 people and injuring 135 in an accident officials blamed on the commuter train engineer's failure to stop at a red light.
In 2005 a Metrolink train struck a sport utility vehicle parked on the tracks in the Los Angeles suburb of Glendale, killing 11 people and injuring 180.
February 25 2015, 09:49