By Murat Sultangaliev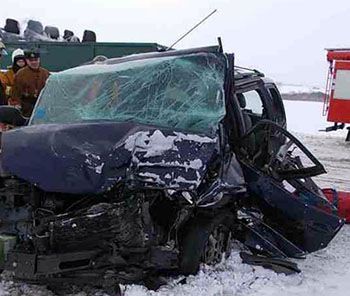 Illustrative photoOn February 14, on Atyrau-Oral highway near the Saraishyk village a road accident with fatal outcome took place.
According to the police, "ZAZ Chance" car collided head-on with a large-tonnage camion truck. As the result of the accident all 4 persons in the light vehicle died on the spot. The causes of the tragedy are being investigated.
Gulnazira Mukhtarova, the head of press service of Internal Affairs Department informed that a 46y.o. resident of Oral, operating MAZ truck with a trailer, on 47th kilometer of Atyrau-Oral highway, as a result of "spontaneous damage of front wheel tire" failing to cope with steering crossed onto the oncoming lane and collided with a "ZAZ-Chance" vehicle operated by a 38y.o. female resident of Atyrau. As a result the driver of "Chance" and three of her passengers-70, 61 and 54y.o. people died on the spot. The inquiry office of the Internal Affairs Department is engaged in the investigation of the causes of accident.
February 16 2015, 09:51