By Murat Sultangaliev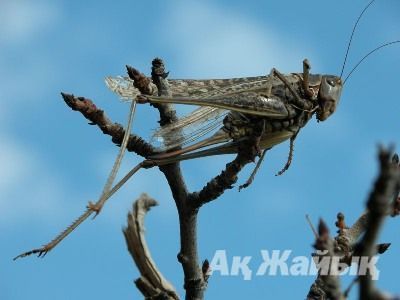 The specialists of the regional branch of state institution "The Republican methodological center for phytosanitary diagnostics and forecasts" predict that in 2015 there will be an increase of quantity of locust invaders at the sea coast in Kurmangazy District.
- We came to conclusion that the effects area by an Asian locust in the Kurmangazy District this year will increase by 40%. Those are hard-to-get, remote islands and the coast of the Caspian Sea that are untreated by pesticides,- says the Director of the branch Khamidolla Davletyarov. - We settled the days and the areas of treatment of the territory by hang-gliders. Timely treatment will allow to avoid the dispersal of insects.
Meanwhile, the area affected by another type - the Italian locust, according to entomologists' forecasts for this year will decrease by 38%. Contrary to "Asian" locusts the "Italian" doesn't like the humidity and prefers to "settle" in the deserts of Narynkum and Taisoigan.
February 13 2015, 10:11