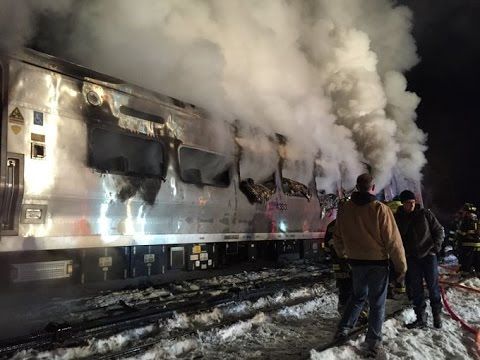 A commuter train struck an SUV that was stuck on the tracks in a suburban New York community during the afternoon rush hour Tuesday, killing the car's driver and six passengers on board the train.
The crash, which was the deadliest incident in the history of the Metro-North rail system, sent hundreds of passengers scrambling for safety. Authorities said the impact was so forceful the electrified third rail came up and pierced the train, foxnews.com reports.
"You have seven people who started out today to go about their business and aren't going to be making it home tonight," New York Gov. Andrew Cuomo told a press conference late Tuesday.
Westchester County Executive Rob Astorino said that 12 people were injured, 10 of them seriously, and described the train as "completely charred and burned."
"I am amazed anyone got off that train alive," Astorino added. "It must have been pure panic, with the flames, the third rail and the smoke."
Authorities said the railroad crossing gates had come down on top of the Jeep Cherokee, which had stopped on the train tracks. The female driver got out to inspect the vehicle and got back into it to drive away when it was struck at around 6:30 p.m. local time, approximately 45 minutes after departing New York's Grand Central Station.
Rick Hope told WNYW that he was in his car directly behind the Jeep when it was struck by the train. He said he had started to back up his car to give the woman room to also back up but when she got back into the Jeep she moved forward into the path of the oncoming train.
"It looks like where she stopped she did not want to go on the tracks but the proximity of the gate to her car, you know, it was dark -- maybe she didn't know she was in front of the gate," Hope said.
February 4 2015, 16:02