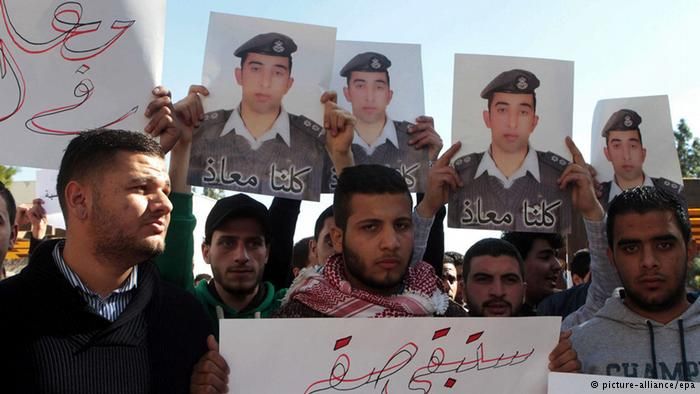 Jordan has executed two Iraqi militants in retaliation for the killing of one its citizens by the "Islamic State." The executions came hours after the release of a video showing the Jordanian pilot being burned alive.
The Jordanian government said on Wednesday it had executed two prisoners, including an female Iraqi militant whose release had been demanded by the "Islamic State."
The executions were in response to IS' killing of Jordanian pilot Muath al-Kaseasbeh. His graphic death was purportedly show in a video released late Tuesday. He had been held in IS captivity since December, dw.de reports.
Jordan had vowed a swift and lethal response to the killing.
A government spokesman said the two prisoners, Sajida al-Rishawi and Ziad al-Karbouli were executed early on Wednesday.
Al-Rishawi was sentenced to death in Jordan for her involvement in a 2005 terrorist attack by al Qaeda, targeting hotels in Amman. Sixty people were killed. She is the sister of Samir Atruss al-Rishawi, a late top lieutenant of Jordanian-born Abu Musab al-Zarqawi, the al Qaeda leader in Iraq who was killed in 2006.
Karbouli was an Iraqi al Qaeda operative who was convicted in 2008 of killing a Jordanian.
Jordan last week had offered to exchange Rishawi in exchange for al-Kaseasbeh, but those negotiations fell through after Jordanian officials said "IS" failed to prove he was still alive.
The video showing the pilot's killing was released three days after the death of Japanese journalist Kenji Goto, who was beheaded by IS militants. Goto's fate and that of the pilot had been linked by their captors.
Goto's death came a week after the militants murdered his friend and fellow captive Haruna Yukawa.
February 4 2015, 15:53