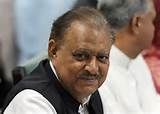 Mamnoon HussainPresident Mamnoon Hussain has stressed the need for revival of air-links between Pakistan and Kazakhstan which will help promote people-to-people contacts and trade between the two countries.
The President while congratulating Ambassador-designate to Kazakhstan, Abdul Salik Khan, who called on him on Tuesday at Aiwan-e-Sadr advised him to make all efforts to highlight the government's investment friendly policies for Kazakh investors, nation.com.pk reports.

He said that there was immense potential for increasing trade between Pakistan and Kazakhstan as Central Asian Republics have great potential for our garments, rice, sugar and goods of daily life and Pakistan can avail this opportunity through her exports.
The ambassador-designate assured the President that he will put in all efforts to improve commerce and investment between the two countries.
February 4 2015, 09:56