By Laura Suleimenova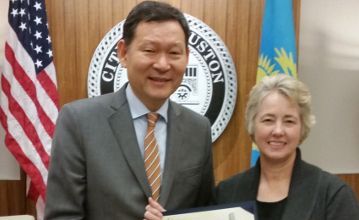 Photo:mfa.kAtyrau and Houston (USA) will become twin cities. So far the handshake deal has been reached.
"The Kazakh Ambassador to the US Kairat Umarov met with Houston Mayor Annise Danette Parker to discuss the proposal to sign a twinning arrangements between Kazakhstan's Atyrau and USA's Houston, - reads the reply from the Governor of Atyrau Oblast to our newspaper.
In the future we are planning to organize a visit of our delegating to Houston and then Houston business circle reps will visit Atyrau."
On RoK Ministry of Foreign Affairs website we found information that Kairat Umarov informed the Mayor of Houston about the preferences for foreign investors and urged American companies to take active part in implementation of the new industrial program "Nurly Zhol", as well as in the international exhibition "EXPO-2017". "Taking into account that a large Kazakh expat community lives in Houston, the partiers discussed the issues of establishment of cultural ties and, in particular, it was proposed to make Atyrau and Houston twin-cities. This idea was supported by Anis Parker, and the implementation of this arrangement will start in 2015", - reads the message of the Ministry of Foreign Affairs of Kazakhstan.
February 2 2015, 12:29