By Zulfiya Iskalieva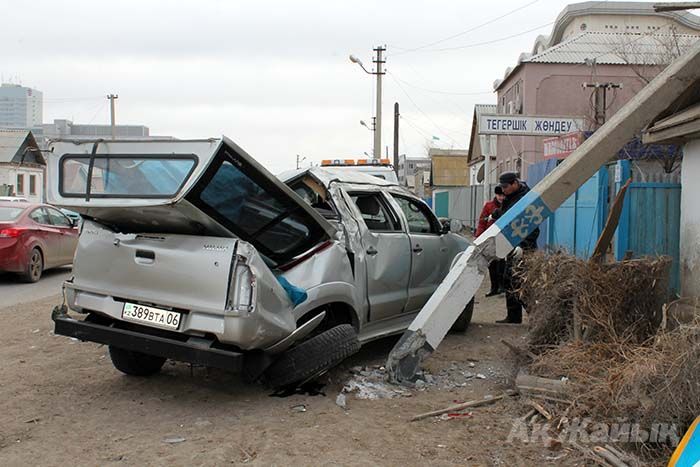 Traffic accident involving "Kia" and Toyota Hilux pickup took place in Atyrau at Moldagulova-Zharbosynov streets intersection on January 30.
The collision was so strong that pickup car was thrown to a side and it hit a power line column which, in its turn, damaged the roof of the house on 213 Moldagulova Street. According to the traffic police officers who worked at the scene, all 5 people in "Kia" car got away with light injuries (airbags activated). Pickup driver was taken by ambulance to hospital. According to preliminary information, Kia car moving along Zharbosynov Street didn't give way to pickup that was moving along the main road.
This is not the first road accident at that ill-fated intersection. For example, in October of 2013 Toyota Land Cruiser SUV moving along Zharbosynov Street towards Avanguard collided with Tengizchevroil bus that was moving along Moldagulova Street in the direction of Satpaev Avenue. As the result of that collision the bus drove into a house on 211 Moldagulova Street. The owner of the house was put into the hospital.
Photos taken by T. Sukhomlinova
February 2 2015, 09:30