By Murat Sultangaliev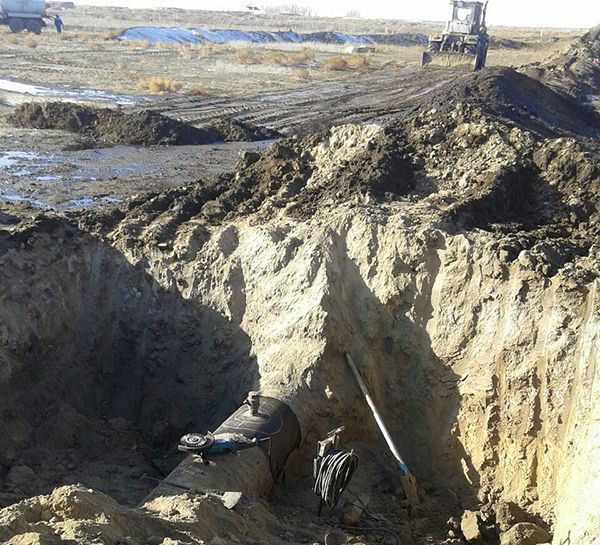 The nature protection prosecutor's office of Atyrau Oblast issued an instruction to the Department of Ecology related to the fact of oil spill on the 81st km of the Martyshy-Atyrau oil pipeline belonging to KazTransOil (see "Oil on tap").
To recall, on Jan 16, the police forces of Makhambet District Department of Internal Affairs found a major oil spill on the border of Atyrau, on the 81st kilometer of the oil pipeline of the Martyshy oil field.
Unknown malefactors performed an unauthorized tap-in onto a pipeline to steal crude, but then ran away and left the tap open. Oil leak was liquidated by KazTransOil ANU forces.
According to prosecutor Kairat Uteuliev, the ecologists are charged with the task to impose administrative sanctions on KazTransOil company officials on three articles of the RoK Administrative Code: Art. 327 ("Failure to report about excess spills and emissions of polluting substances") - that entails penalty at the rate of 25 MCI, Art. 337, part 2 ("Damage of the soil" – penalty of 200 MCI) and Art. 324, part 1 ("Violation of sanitary-epidemiologic and ecological requirements for environmental protection") – the penalty entails the sum equal to the harm done to environment. The department of ecology should determine the sum of damage and punishment for the guilty by February 19.
Besides, the head of Internal Affairs press service Gulnazira Mukhtarova informed that criminal case has been initiated as per Art. 188, part 4 of the RoK Criminal Code ("Large scales theft made by criminal group from oil and gas pipeline") that envisages imprisonment for a period of 5 to 10 years with confiscation of property. The only trouble is where to find the malefactors.
January 26 2015, 11:54