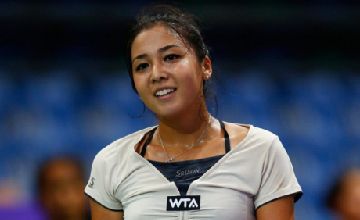 Zarina DiyasWorld №2 Maria Sharapova has had a fairly quick win in the third round of the Australian Open 2015 against Kazakhstani Zarina Diyas today, azh.kz learnt from m.tennis.com.
This was the first encounter of the five-time Grand Slam champion with Diyas. Sharapova needed an hour to send the Kazakhstani packing 6:1, 6:1. She hit 3 aces and made 4 double faults. Diyas served no aces in the match and made only 2 double faults.
Against Diyas, Sharapova won the first set in 26 minutes and was broken to open the second, but responded by winning the next six in a dominating roll.
''I think I rebounded really well,'' Sharapova said. ''I had a good hit yesterday and just kind of thought a little bit about what I wanted to try to achieve tonight no matter who I played.
''I tried to be a bit more aggressive ... she can be a tough, tough player to play against if you give her the time to charge down the line like she likes to do, step down and hit flat, low. So she has that capability.''
Sharapova who advances to the quarterfinal will play against Chinese Shuai Peng who toppled another Kazakhstani Yaroslava Shvedova in their respective third-round match.
January 23 2015, 16:29