By Murat Sultangaliev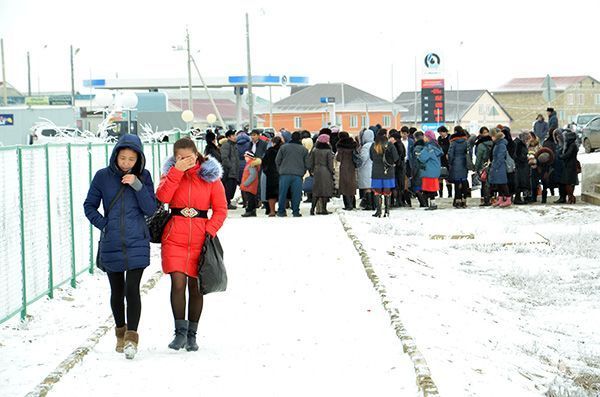 On January 22,at 13:18 the central dispatcher point of the regional Emergency Situations Department received an alarming call about mass poisoning of schoolchildren with unknown substance in airat the IssataiTaimanovsecondary school located at Zhoumyskersuburban village.
According to Emergency Situations Department of AtyrauOblast, 18 children were delivered to the children's regional hospital. We have learnt from the parents who gathered at the reception ward that the school had an event at the gymnasium when all of a sudden people experienced a sharp shortness of breath and started to run out of the gym.
According to them, one of boys, Almas Serikkaliev, helped the girls to evacuatethe gym and was one of the last persons who vacated the gym. Consequently he suffered more than othersand was placed into intensive care unit.
The reason of poisoning is still unknown. Juvenile policeemployees who visitedthe school, say that they felt a suffocating smellin the gym.The non-destructive testing inspector of KazTransGasAimak company who checked the building with gas analyzer said that it wasn't methanegas for sure and he generated a relevant statementabout it. The school territory is currently cordoned off by the police. Emergency Situations Department experts are working inside the building.
Photo taken by Kanat Eleuov
Official information for mass media
On January 22, 2015 approximately at 13:00in the afternoon 21 pupils and one employee ofthesecondary school named after Issatai Taimanov, located at the suburban village of Zhoumyskernear Atyrau, were hospitalized with symptoms of aerosol poisoning of unclear etiology.
They received a timely medical careand their conditions have been brought to norm. The first patients have been released from hospital.
The authorized bodies are taking necessary measuresto establish the reason of the incident.The Governor of AtyrauOblast B. Izmukhambetov visited thescene, as well as the children'shospital and instructed the relevant bodies to perform a carefulinvestigation of the incident.
Press service of Atyrau Oblast Governor's office.
January 22, 2015.
January 22 2015, 23:55